I may be in some sad bastard minority when it comes to porn, but I like to have my facts straight. Often, it can take me between six and eight hours just to prepare a single blog entry and, in amongst the thumbnailing, creation of video clips, coding and writing, there's a fair measure of background research that goes into a lot of my entries (and special thanks to those of you who assist me with this). Tedious though this task may be, my reasoning is that, since I'm genuinely interested in having accurate facts about the models I know and love, I figure that many of you may feel the same.
However, the porn industry is generally not so forthcoming with facts. Sometimes this is done to protect a model's privacy; other times as a marketing vehicle to promote her to what they feel their target audience wants to hear. The former I can understand fully and can even see some credibility in the latter, provided it's founded in truth. I myself am not beyond peppering a post with provocative keywords in order to enhance targeted search engine rankings but, when it comes to outright lies & mistruths being deliberately employed to elicit interest in a site to the point of puntership, I have to take issue.
Such is the case with White Dicks in Black Chics, a site which initially caught my interest solely based upon the inclusion of 34HH Amanda White aka Mya (or Mia) Clifton. Billing itself as a "reverse interracial porn site", WDiBC certainly does what it says on the package, but I do have a problem with some of the promotional test they use to flog their galleries. Case in point: The site cites Amanda as being a "first timer" with white cock, whereas I know for a fact that this simply isn't true! In fact, if you'll refer back to a Big Tits Curvy Asses blog I did a while back, you can clearly see Amanda in interracial action in the last video gallery I'd included. Now for the real shocker: It's the same people who own both sites!!
Honestly, they should know better than to attempt deception upon big breast lovers, as we can be unforgivingly pedantic bastards at the best of times. Perhaps they expect us just to be quiet and sup up whatever porn they provide, content that there are some big tits on display, and simply don't give the consideration of due diligence in what they're writing. Then again, maybe they have done their research and concluded that the majority of porn punters want fabricated fantasy rather than cold, harsh reality. If that's the case, then I'll remain behind in the minority – thank you very much.
But, as much as it pains me to patronise sites who presume us to be unintelligent, oblivious perverts with the memory of a goldfish, when all is said and done I do suppose it's ultimately down to the tits – and beautiful black babe Amanda White has some lovely tits indeed. I just love the way her heavy HH-cup hangers appears so amazingly firm for their pendulous size and seek her out wherever she might appear (as is the case with many models). And so, somewhat against my better judgement, here's 34HH Amanda White in (what is most assuredly not :~P) her first interracial hardcore sex scene courtesy of WhiteDicksInBlackChics.com…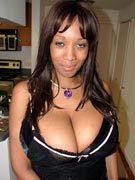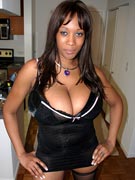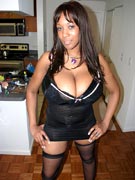 …eh, since I've come this far, I might as well stick in a few videos of Amanda and a few others – including another HH-cup busty black beauty, 38HH Alexis Williams (whom I'm likewise unable to accept has never appeared in interracial porn before) – from WhiteDicksInBlackChics.com: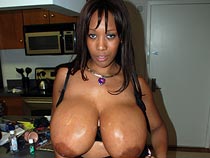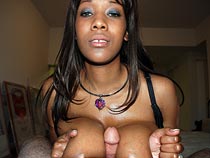 CLICK HERE TO VISIT WHITEDICKSINBLACKCHICS.COM

(webmasters)
Share and Enjoy
→ Return to MyBoobSite for More Big Tits ←