In breaking news from the ancient world, the Discovery Channel recently reported that Egypt's greatest female pharoah, Hatshepsut, had breasts that were "huge and pendulous"! Ruling from 1498 to 1483 B.C. as the fifth pharaoh of the 18th Dynasty (the same one within which Tutankhamun later reigned), Hatshepsut was often described as "the most beautiful woman in the land" by hieroglyphic scribes (despite the rumours that she occasionally donned a false beard) and did much to challenge the dominant male supremacy so prevalent in ancient Egyptian times (which pretty much remains the case today, actually).
But however do they know that Hatshepsut had big tits? Well, apart from the granite statues depicting her topless, recent examination of Hatshepsut's mummy confirmed this fact. Apparently, the excess skin encapsulating the fat which fills large breasts does not retract during mummification, and so remain as evidence of said endowments. However, I feel it's unfair that archaeologists have connected her immense breast-size with obesity – thus leading them to doubt the accuracy of the representations in her mortuary temple which depict Hatshepsut with huge tits but an "almost adolescent body" – because, after all, she could have looked like Anya!
Ah, to live in a world ruled by busty, well-endowed women. We already know that girls with big boobs are smarter, but they also strike me as being generally more compassionate than their lesser-endowed counterparts (which, granted, is probably purely prejudicial on my part, but we're all entitled to our political opinions :~P). Besides, there are so many big tits in politics already nowadays, we might as well go ahead make it literal.
My first candidate for this emerging mammary-centric matriarchy would have to be Aneta Buena. In fact, I'd go so far as to say she could rise to pharaoh status on account of her sublime divinity (and anyone in doubt of Aneta's god-like qualities need only to look at this photo within which she defies the law of gravity (either that, or the photographer tilted the camera)).
The brief intro that Aneta wrote for her website already reads a bit like a campaign speech anyway, so I don't even have to expound upon her policies! To wit: "I know exactly what you want and need. And you will get it, I promisse. You will have a great fun, big adventure and a hot, exciting pleasure. You will find me totally new, but still same, good-old Buena. Soft erotism and hard games. All in once! I will make your wishes come true:)" [and, bearing in mind that English is not Aneta's first language, I'd say that she's more literate than a lot of our present politicians ;~)].
And so, to kick off my Aneta Buena for Pharaoh campaign, here are a few of her latest photo galleries from AnetaBuena.pl: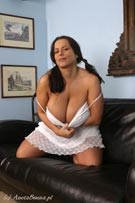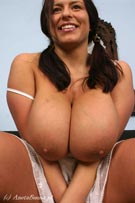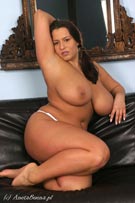 CLICK HERE TO VISIT ANETA BUENA AT ANETABUENA.PL

Share and Enjoy
→ Return to MyBoobSite for More Big Tits ←