Thought I might have time to squeeze in a quickie as Vix & I prepare to depart for a three-day dirty weekend of partying (and thereby put to good use the big bags of complimentary condoms we got at the sex clinic as mentioned in yesterday's blog!). The reason I wanted to bang one out amidst my frantic packing and charging of camera batteries is that I wanted to introduce you to the latest busty arrival to TheBreastFiles Playmate Sites – JJ-cup Jammin Jennie… :~D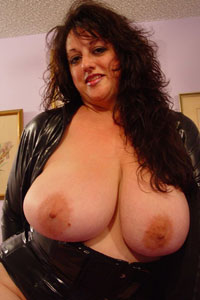 …I first encountered Jammin Jennie back in March of 2006 when she'd stumbled upon the first blog I'd ever written about her over on MyBBWSite and left a comment, having mistaken me at the time for my mate Clint the Big Tit Cyber Pimp (who owns the Sensational Pass family of sites as well as my all-time favourite destination for busty BBWs, Hot Sexy Plumpers). I sent her a brief message back to clear up the Clint-based confusion and Jen & I have kept in touch on and off ever since. However, I can't take the credit for Jen deciding to set up her own personal Playmate Site with us, as it was none other than the lovely Samantha Anderson who'd made the recommendation (so thanks and big hugs, Sam, for helping out in our recruiting efforts and sending yet another wonderfully well-endowed woman into our midst!).
Unlike many of the amateur & first-time models we have on our growing list of Playmate Sites, Jammin Jennie is a seasoned professional, having appeared in photo spreads for Juggs Magazine as well as Score's Voluptuous & XL Girls. Having begun her illustrious career with the porn industry in 2000 at the age of 40 when suddenly faced with an uncertain future in her run-of-the-mill 9-to-5 job due to corporate downsizing, this raven-haired bisexual beauty decided to make the most of her exceptional natural assets by turning her attentions to nude modelling and erotic art. Jen became an instant hit in the big tits niche, developing a dedicated fan-base and appearing on countless websites, occasionally sharing the limelight with long-standing porn veterans like Chessie Moore. Thus, I can't even begin to tell you how thrilled I am that Jen's chosen to make her new on-line home with us!
And so, may I ask you to please extend a warm MyBoobSite welcome to Jammin Jennie (who I must say reminds me vaguely of a more voluptuous MILF version of Eden Mor, especially in this photo)? As a manner of introduction, I've chosen a few of my favourite photos from the series of Jennie jammin' in the purple room, her gigantic JJ-cup juggs bursting out of her tight black vinyl jacket and matching corset, the latter totally unable to contain her copious cleavage, courtesy of Jen's Playmate Site: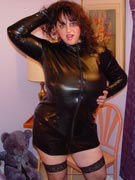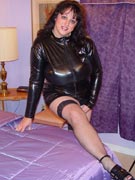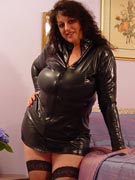 (note: actual photos on Jammin Jennie's site are 1024×768 resolution)
CLICK HERE TO VISIT 38JJ JAMMIN JENNIE AT THEBREASTFILES

(webmasters)
Share and Enjoy
→ Return to MyBoobSite for More Big Tits ←