After spending several agonising hours enduring a perpetual erection over a couple of supplemental video clips I'd made for my busty Ivy blowjob blog (and, before you ask…no, I'm saving it for later), I figured I'd best switch over to softcore porn for a while as an appropriate antidote. Now, I do sincerely hope that she doesn't take it personally, but the busty model I chose to abate my condition was 32G Jana Defi…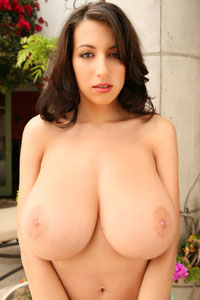 …it's not that I don't find her attractive – on the contrary, I consider Jana Defi to be a most stunning woman and one of the genuine G-cup goddesses of MyBoobSite – but it's simply a matter that "regular" porn just won't do it for me any more coupled with the fact that I've not featured this favourite for a while. Sure, she appeared in my 4th of July blog alongside Taylor Kennedy, then with Brandy Robbins & Maggie Green and even earlier as alter ego Maria Swan in the company of Ewa Sonnet, Emilia Boshe & Kate Bona, but that's been it for the whole past year! Even worse, the last time lovely Jana actually got a blog of her own from me was waaay back in March of 2007!!
So I'm sure you'll agree that this blog is long overdue. I still love Jana Defi and cherish her every appearance (although, truth be told, I do so dearly wish she'd go back to making CONTENT LIKE THIS), lest any of you thought that I'd gone off her. The latter could be nothing farther from the truth! You see, her body type, facial structure, eyes & hair remind me of that ex-girlfriend I'm always going on about and, if Jana just had braces on her teeth, she'd be a dead-ringer (um, except for having much bigger breasts, as the ex-g/f was two to three cup-sizes smaller). So, for me, the attraction is personal.
But that's all beside the point, really. I'm well aware that the vast majority of MyBoobSite's visitors couldn't care less about my own tales of woe and lost loves long past (although thanks to the handful of you whom I know do), most just want me to show you her tits! Well, your time has come, as here's a bit more of the incomparably beautiful 32G Jana Defi from her most recent bikini / topless photo shoot for PinUpFiles.com: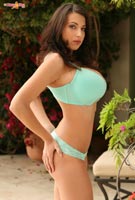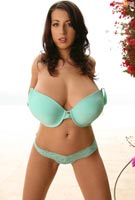 (note: actual photos downloadable from the site are at least 2657×1572 resolution)
CLICK HERE TO VISIT 32G JANA DEFI AT PINUPFILES.COM

Share and Enjoy
→ Return to MyBoobSite for More Big Tits ←