I've always heard you can never be too rich or too thin, but can a busty girl be too slim & stacked? True, my taste in big tits tends toward the plumper end of the spectrum, but I'm not averse to the occasional sexy slender sylph, either (in fact, I'm more than happy to find profound penis pleasure in a girl with no boobs whatsoever, provided she's adequately well-endowed down below). But, large labia lips aside, I think I may have reached my limit with sexy DDD-cup busty but too skinny 34DDD Lillian Faye from Scoreland…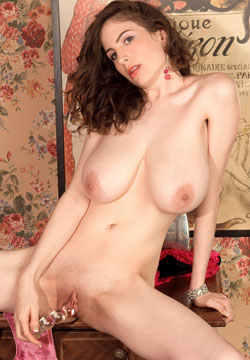 …sure, she's got a most amazing breasts to body ratio and her big pussy lips alone are enough to keep me occupied for hours, but wouldn't you be afraid to fuck her because she might break? Tits a worry, to be sure. Still, I do find her ultra-slender figure strangely alluring, as if it's expanding my big boobs boundaries to another erotic extreme (I would have said more well-rounded, but that'd be an oxymoron in lithesome Lillian's case).
Oh, and apologies, but I'd prepared most of this boob blog yesterday prior to our internet bandwidth being restored (thank Ah Pook for that! coz they'd said it wouldn't be fixed 'til next week at the earliest), so I hope you don't mind an updated Score feed reprise (since I was just desperate to get some embedded videos back on my blog). Thus, here's super skinny chick with big tits and lovely large labia lips Lillian Faye 34DDD & more from Score…

American Lillian Faye is still one of the thinnest naturals to ever be in SCORE. Only a few others have come close. A Ukrainian natural living in Israel named Mariana was almost as slim as Lillian but Miss Faye has bigger tits. Lillian is so slim that she looks extra-busty, beyond her 34DDD. Very much the girl-next-door type, Lillian always earns extra props for her very large, meaty, thick pussy wings and her skill at nipple self-sucking. That pussy gets as many comments as her nipples and boobs. In her videos, Lillian has a happy, friendly personality, again, very much girl-next-door. "On the outside, I appear more passive," Lillian said. "But when I want sex, I love to tease. That's my way of being assertive. I like lots of foreplay and tit-play first and I love getting oral."
See More of Lillian Faye at SCORELAND.COM!
Lola Lush wraps her lush, fertile-looking frame in a sexy leopard print dress over a red bra and panties. She can be our catwoman anytime. As hot as she looks in her well-selected clothing, Lola needs to buff down and give us her bod. She vibes her pussy with a purple toy as an extra. Speaking of pussy, Lola's is bushy yet neatly trimmed. You could spend a lot of time there once you manage to extricate your mouth from her nipples. Lola likes men with intelligence, honesty, personality, confidence and big dicks. Girls! They're too fussy. At least she got fed the big D in two epic scenes at XLGirls.com that you should see to observe how nicely she worships it!
See More of Lola Lush at XLGIRLS.COM!
Spectacularly endowed (and her tits look like they're still growing), Maserati is a top-popper par excellence. She is much more than a Maserati. She is a BMW ("Big-Mammed Woman"). Her previous SCORELAND appearance "I Got The Power!" drew many props. Maserati is one of the great newcomers of 2011. She would be great even if she never did a lick of guy-girl sexing. "One of the all time greats," notes a SCORELAND member with the nick, Erotica6. "Other female performers out there, take some notes! She's one of the best that knows how to give a proper finish." And W.S. writes "Her insane body is beyond any dreamgirl I ever saw. My brain locks up whenever I see her. I would do anything to have her as my woman. I've never had a black girl in my life but her skin color means nothing to me." Maserati's hobbies include reading. She has a Kindle that she takes with her. No, she doesn't rest her Kindle on her boobs when she reads. But it's a nice mental image. Her favorites: African-American books and mysteries and horror. "They keep me engaged," Maserati says. Beauty and brains. You rock, Maserati!
See More of Maserati at SCORELAND.COM!
This marks Angel Sin's seventh appearance at XLGirls and we'll tell you why. She's 47-38-46 and wears a 38FF bra. She has a beautiful face and pussy. That's good enough for us and we'll tell you why. We're old-school around here. We like old-fashioned nipple flashing, pussy spreading, tit-play and good ol', red-blooded, two-balled fucking. Kinky and fetishy, we ain't. So even though Angel Sin likes to play dominatrix and get all kinky, getting kicked around by a chick doesn't bring the joy here. So that's why pretty Angel is wearing a tight, low-cut, righteously sexy dress, a sexy brassiere and skimpy panties–just the outfit for a good day at the park, not at the dungeon. Add a big toy for her nice pussy and it's all good. Angel fantasizes about sex in elevators and circle jerks and used to play dom/sub games with other girls. Maybe one day she'll decide to come back and play the good ol' hide-the-salami game with an XLGirls stuntman. That would make our day.
See More of Angel Sin at XLGIRLS.COM!
Those who say that college coeds ain't what they used to be hasn't seen Kaytee Carter. This is the school of soft knockers. Kaytee makes a classroom and a campus the place to be. She lights up every place she goes to, whether it's the library, the rathskeller or the laundry room. That see-through blouse has campus police following her with cell phone cameras. When she bends over and reveals her sheer panties, faculty and students freeze like boobhounds on a hunt. Okay, so the old biddies on the board don't approve of her style of dress but let's face it. Kaytee has got it and she's got it to spare. One of her instructors did try to change her ways by making her write "I will not play with myself in class!" one hundred times on the blackboard. But that only made Kaytee want to play with herself even more and inspired her to master the art of nipple-sucking as well as hands-free nipple-sucking and holding. We salute Kaytee Carter in her pursuit of higher education. Just looking at her makes a man higher.
See More of Kaytee Carter at SCORELAND.COM!
This is Kelly Christiansen's fourth boobie-call scene at SCORELAND and she has two more at SCOREVideos.com. This titty-tally doesn't even include her SCOREtv appearances and her mastur-date solos. Which one is your favorite? Kelly's popularity is off the bra-hook and she is one of the most-appreciated covergirls in this Hallowed Hall of Hooters. Kelly is the go-to girl for many Scorelanders since her debut in Holiday '10 SCORE. When we first met and interviewed Kelly, we never predicted where and to what level she would take it. This "Angel Of SCORELAND" is back at this citadel of deep cleavage, her home away from home, and she couldn't cum at a better time. "I want you to watch me take a big cock," Kelly says softly. "I want to play with it and I want to do all sorts of naughty things with it. And I'll pretend that it's you." What Kelly wants, you provide. Because Kelly wouldn't be here without your support. So pat yourself on the back. And congratulate this good girl/bad girl for driving everyone crazy over her beauty, her bod, her big boobs, her sweet personality and her talents and mad skills at being bad to the boner. When you watch Kelly in action, you can't take your eyes off her body and face. She is 100% breastnotizing. Watch her weave her magic again.
See More of Kelly Christiansen at SCORELAND.COM!
Danica Danali's Fashion Show video is similar to her XLGirls photo set with two differences. In the video, Danica does not change into lingerie and she fucks her pussy, and her tits, with a big, red vibrator, not with her fingers. The boob oiling remains. What catches the eye during Danica's toying is how her pussy lips cling to the vibrator as it enters and departs her love tunnel. This effect is especially noticeable at 18:40 when Danica, on her knees with her ass to the camera, pulls one butt cheek to the side so the toying action in her pussy can be better seen. Good gripping action! You cock would certainly appreciate that. Props for Danica include: "Danica, as always, looks hot and sexy. She has some of the most gorgeous tits I've ever seen. I hope XL Girls will continue to show us more of her. 5 Stars!" (By BJ). "Danica really does it for me. Everything about this woman is sexy." (By Tom). Let's hear it for Danica with some side applause for the big state of Texas. She's a great example of the kind of bods and boobs XLGirls has sought for over a decade.
See More of Danica Danali at XLGIRLS.COM!
"I need a big cock," Kelly Christiansen softly says, playing with her big, soft tits, covered by a thin, see-through, blue top that shows off both top and bottom cleavage. "Let me play with your big cock." Kelly is a girl who likes to say the word 'cock.' She likes how it sounds rolling off her tongue and she loves how it tastes as her tongue rolls off it. Kelly's sexy, round ass is encased in blue-jean jeggings over blue panties like a second skin. She rubs her pussy through her jeggings, in anticipation, then returns her hands to her boobs, promising to rub her boobs in your face, pound your face with them, smother your face in her deep cleavage. Let us give thanks for this gorgeous blonde with a body that will not stop, the wife of a SCORE reader who lets her pose naked and even fuck other men for the SCORE camera. Kelly wants to "rub [her] tits all over your body, rub them all over your cock. Yummy." What corner of hooter heaven did this "Angel Of SCORELAND" fly in from? "I want you to watch me take a big cock," Kelly moans. "I want to play with it and I want to do all sorts of naughty things with it. And I'll pretend that it's you." Worked up and beyond ready, Kelly says she can't wait for that cock. When it arrives, Kelly kneels and wraps her nude tits around the shaft, squeezing it between her deep, soft cleavage and tit-fucking it, staring at you. This is only the beginning of Kelly's horny holiday. Fuck fever has gripped her. Kelly can't help herself. What Kelly wants, Kelly gets. She wants all the cum. All she has to do is point her finger at you and crook it and she's got you. Congratulate yourself for contributing to Kelly getting it. Thank you, Kelly Christiansen!
See More of Kelly Christiansen at SCORELAND.COM!
Please do not confuse Danica Danali's Fashion Show with the no-tits-on-a-stick fashion shows on TV hosted by foo-foo pseudo-celebrities. We will have none of that painful garbage here at XLGirls. Danica first models her denim cut-off shorts and a very tight tank-top. The kind of outfits that drive the neighborhood dads and male store clerks out of their minds crazy when Danica goes out. Then she changes to sexy lingerie and oils up! Danica takes everything off and fingers her pussy and plays with her massive funbags. If you can handle it, there's a video too. Danica mentioned something that the great Analee Sands also talked about. She likes a guy to wear something during sex. Analee called this "CMNF." That's Clothed Man Nude Female. "It means I like sex with a clothed man while I'm nude," said Analee. Danica also touched on this, "I love when my guy wears a tight cotton shirt during sex. I love the way it feels," Danica revealed. Very interesting.
See More of Danica Danali at XLGIRLS.COM!
"I am an exhibitionist," December '11 SCORE covergirl Venera admits. "Definitely. I like it when men look at me, which is something I didn't always like. I was always covering myself up when I was younger. It was hard getting so much attention. But I got used to it when I started modeling. Because of modeling and the webcam, I learned not to be shy about how I looked. I learned to be proud of my body. I started to show myself off." When Venera enters the picture wearing a teeny bikini and heels, it's okay to fall out of your chair. Just the sight of her 32H tits barely supported by her bikini top is enough to make your brain lock-up, if not crash. If you do, just re-boot your head and keep watching. Venera is anxious to get her suit off so she can oil up her mindblowing, incredibly slim body and pleasurize her nipples and pussy. If Venera's first SCORELAND Special "Meet Venera" didn't convince you that she's one of the best models you'll ever see, what Venera does here should push you over the edge. "I love it when I go on camera. I love to be watched. I love to pose." Venera really is a living Venus.
See More of Venera at SCORELAND.COM!
Beautiful Nina Star has fucked at XLGirls and a second time for Feed Her Fuck Her in a wild scene with pasta and stud JMac. "I like to role-play when I have sex," says Nina, a 46KK Texas tornado of a girl. Her tits are just fucking huge and she's proud of them. "I masturbate twice a day and I really like it! I don't like to wear panties. Panties are boring. Like I said last time, when I check out a man, I look at his shoes first. If his shoe size is big, then I think that his cock is big too. When it comes to sex, I'm a control freak. I love to control. Sometimes I meet a man who's stronger than me and let him have the control over me. I like a man who works hard in bed and is not lazy. Most guys want to fuck my tits first. Once in a while I like to go to strip clubs with a hot man or a hot girl and then go somewhere later on to have sex all night. What satisfies me best of all during sex is a man getting off on me. Seeing him give me a nice big load of cum after he makes me cum."
See More of Nina Star at XLGIRLS.COM!
When last we saw this soft and bosomy redhead, curvaceous and sexy Destiny Rose was nursing a man and his cock and she looked especially tasty in her nurse's uniform. That healing was a big success. Now Destiny is back in college but her nightly activities are impacting her studies so she goes to see Professor DeSergio. She wants to speak to him about a grade she received. It's not that she's been partying and not studying. It's because she's dancing at a strip club at night and needs her tuition money. The Professor acts surprised. "Don't act like you don't know," Destiny tells him. "I've seen you at the club twice this week already. Sitting in the back…." That's because the Professor is a SCORE Man and loves big tits. Caught! But Destiny doesn't like the guys trying to pick her up every night at the club. She wants the Professor's pointer. Right now. In his office. She decides to give him one of her popular friction dances in his office right there to prime the pump. He goes out of his mind as she grinds his groin with her amazing butt and pummels his head with her awe-inspiring tits. Their clothes come off and they suck, kiss, lick, stick and fuck all over the office; on the desk and on the couch. What a hot fuck Destiny is! It took her a while to finally decide to go all the way but she is well worth the wait! She is the real deal. She is fucking amazing. Better late than never! Destiny makes the grade and the Professor decides to give her a special surprise when it's time to cum in "But Professor…I'm A Stripper!" Can you guess what it is?
See More of Venera at SCORELAND.COM!
This time, Lisa Canon flies solo and goes for the girl-next-door look and, of course, looks every inch the naughty neighbor you'd love to live next to. She is an outdoor girl. "I try to go outdoors 'cause I don't want to be stuck in the house all the time, even though there's no civilization around. I just try to have fun," says Lisa, who enjoys playing ball, camping, cook-outs and swimming. And sex. "I like outdoor sex. It's fun. I think what it is; why I have sex in public is because if someone catches me it brings up the risk factor. It's more intriguing." Lisa has had a lot of good sex here at XLGirls.com, including interracial. "I love having rough sex. But like any girl, I like the sensual, soft, kiss-me, love-me type of sex. But then there's times when you're just like, 'Fuck me!'" If we asked Lisa's friends to describe her, what does she think they would say? "They'd say I'm crazy. I'm bubbly. I like to have fun. I'm the first one to do anything crazy, whatever it is. My mom actually caught me having sex one time. It was not that good. It was in the middle of the living room. I was riding the guy, and she just looked at me turned around and walked off. The next day she was like, 'You don't need to be doing that in my living room!' And I was like, 'I'm sorry. I thought you were sleeping.'"
See More of Lisa Canon at XLGIRLS.COM!
Covergirl of this issue of SCORE, Venera has a new bikini and she is eager to get out of it…after you get an eyeful. Venera knows she's special, a natural marvel. Men look at her. Women look at her. "Girls stare at me all the time, and sometimes they make comments that aren't very nice," Venera says. Yes, that same old thing. Jealousy. Envy. The usual emotions big-boobed girls face. But we hope the good things outweigh the pettiness of some people. "They say, 'Look at that girl! Look at what she's wearing. Look at her fake boobs!' They don't understand. They can't believe that my breasts can be so big and natural. I think if they had boobs like mine, they would be wearing the same type of clothing." Venera speaks the truth. "Right now I'm single. It's pretty hard to have a boyfriend who will understand what I do. Not every guy will accept his girlfriend shooting naked photos and traveling around the world and meeting people and so many men looking at me. Maybe one day I will stop modeling and settle down, but not yet. I am having too much fun!" To be continued.
See More of Venera at SCORELAND.COM!
Behind closed office doors, Desiree acts like any other executive. Her busy day is filled with important planning and decisions. Let this pictorial illustrate what she may be doing at any given moment in her executive suite. Can you believe that Desiree wanted to be a policewoman? Chew on that for a few seconds. "I was a dancer for a while and then I quit and decided to go back to school and get my Bachelor's degree in criminal justice," Desiree said in an interview filmed at SCORE. "I actually wanted to be part of the NYPD. I wanted to be a cop." She wouldn't have a problem busting guys, that's for sure. She'd suffocate perps between her 36DDD cups until they confessed to jacking off without a license. And can you believe that Desiree has trouble finding guys who can fuck her properly, the reason she got into XXX action at SCORE. "A lot of guys can't keep up with me. They cum too fast, or they don't want to have sex when I do. It was no fun for me." Her first scene "Desiree's Anal Cumback" was wild for someone who had never done anything like that before. It didn't last just two minutes. It was good. The first time, it was a little awkward. It was weird, but then I got the hang of it and it was easy. I have always been curious about anal, so I tried it. I wanted to do it first and kind of get it over with. But what was funny was that the night before, the studio staff sent me home with these anal toys and they were tiny. They were tiny butt plugs. And then I come in the next day and Juan, the stud who I had my first anal scene with, was huge! I found it kind of funny that the toys were like a quarter of his dick size. But it wasn't too bad. I liked it. Like I said, the guys I sleep with can't even last like two minutes in my vagina. They never even tit-fucked me. There is no way that those guys can try and fuck my ass!" Everyone at SCORE is pleased to have helped Desiree find satisfaction. She can count on SCORE.
See More of Desiree at SCORELAND.COM!
When Terri bathes, boob radar screens all over the world light up. "Terri's in the tub," hushed voices announce. Phone lines start ringing. "Terri's in the tub." Well, not really. It's just that the very thought of Terri showering or bathing is enough to raise a ruckus. Do you prefer to see your girls in the tub or showering? Terri told us that her tits went from a J to a K. "Well, I knew that I was sort of due to move up a cup size because they were growing. So, I went up to a JJ-cup and then all of a sudden, I didn't fit into my bras anymore. And it was because I had gone up to a K-cup. I got measured and I am a K-cup. They are pretty heavy. I think they weigh about a stone each. I was told that they wouldn't grow after I turned 22, but I think they will." We hope so! Now Terri will describe how she puts her bra on. "I usually fasten it up front and then swing it around to the back and slip my arms into it. If I try to put my arms in it first and then fasten it behind my back, I am there for ages." What else can Terri tell us before we leave her? "Guys like to watch me at the gym." That's cool but we get a much better view than those guys!
See More of Terri Jane at XLGIRLS.COM!
Did anyone expect Michelle May to stand on her head just to please everyone? Well, she actually did, in photos 38 to 42. So, you see, Michelle is the kind of great girl who will bend over backwards for you. "Men fall over themselves when I'm braless," says Michelle. If those same guys could see this pictorial, they'd probably need oxygen. In high school, some called her "Tits McGee." Michelle didn't mind. "It was all in good fun," Michelle remembered. "No one ever went out of their way to be nasty to me." Now who would do that to this California cutie? Michelle is the only model we have photographed who said she had sex on a football field. "I once dated a guy in college who said he wanted to have sex on the 50-yard line and so one night we snuck into the stadium and we went at it. It was hot." So beware! Behind that innocent gal-next-door look is one hot mama.
See More of Michelle May at SCORELAND.COM!
Besides the return of Desiree, November '11 V-mag also celebrates the return of Diane Poppos, out of self-imposed retirement and back to drop the top and reveal those Texas tits. Diane's been sorely missed! And we do mean sore. Since her final pictorial, her boobs have grown bigger during the remainder of the decade, but unseen. The first of the busty all-American, all-natural housewives to set the standard for all the topheavy MILFs who came after her. Judging by all of the props since her recent comeback, the guys welcome her back. And her front! She was not forgotten. Guys who never comment or email came out to pay homage. "The goddess of big tits lives. SCORE, thank you for bringing her back to her loyal fans." "It was an awesome shock to log-in to see 'Diane Poppos' in the latest updates column. Diane is still gorgeous." "I never thought we would ever see anything of Diane anymore in this life." "Diane still looks incredible. So awesome to have her back. I look forward to seeing much more of this incredible woman. My God! She looks fantastic!! She has put on a little weight and it looks great on her!" "Diane is one of my classic favorites. She is so hot and really the embodiment of the lady-next-door look that we'd all wish to happen upon." Will this sudden return be a temporary thing for Diane? Only time will tell.
See More of Diane Poppos at SCORELAND.COM!
…and, I promise, our normal breast blog service shall resume soon.
Cheers,
~Reese! :~)
Share and Enjoy
→ Return to MyBoobSite for More Big Tits ←