Everyone has their own personal body type preferences when it comes to well-endowed women. Some go for the slim & stacked extreme breast to body ratio in slender busty girls like Merilyn or Rachel, others gravitate toward getting a bit more meat on their bones with voluptuous vixens such as Sam & Maria. Well, today, I thought I'd dedicate the boob blog to what has become over the past years my own picture of bodily perfection. Curiously, though, it's not the full frontal view that tugs on my loins to the point of, erm, tugging on my loins but, rather, the view from behind…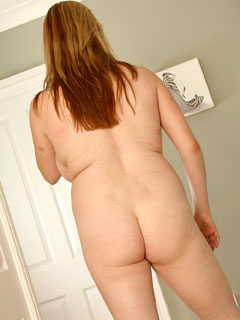 …some of you may recognise this gorgeous ass, torso and bit of sideboob teaser as the lovely Lucy Williams from Busty Brits. She's not a big girl by any stretch of the imagination, but is she's certainly no small lithesome sylph either. Rather, she's one of those "inbetweenie" burds for which MyBoobSite – and, indeed, the whole of big tits porn in general – still lacks an appropriate category (unless you consider MILF porn, although MILFs imply something entirely different to me). Neither skinny enough to be your run of the mill mainstream model material nor fat enough to fall comfortably into the plumpers & BBWs niche, Lucy's just the sort of real woman with natural curves that I could easily fall deeply in lust with without so much as seeing her face first (indeed, it's happened before)!
What is it about this particular view that gets my pule invariably racing at so much as a mere glance? Will, moving from the top down, it's the way her two-tone hair falls luxuriously against the curve of her back, the glimpse of breast flesh poking out from beneath her armpits as a promise of big boobs, the horny hint of love handles just above her voluptuous hips that would just look glorious garnishing a nice pair of tight jeans, that fleshy round ass nestled between her coccyx and those not too thick thighs, just to name a few. Whilst I am wont to pursue fantasies of fat chicks and skinny burds alike, it takes a true "woman of substance" like Lucy to transform the fantasy into a life-long reality.
Yes, girls like the semi-voluptuous Lucy Williams are dangerous, transcending the fetish aspect of perving at porn to the point of inspiring me moreso into the realms of wife & girlfriend material. I imagine myself having the fortuitous fortune of falling deeply in love and in lust with a girl like her, of spending my days adoring her ample assets with a self-satisfied sense of quiet admiration, of waking up every morning nestled next to that perfect naked body as she slumbers sexily beside me. *sigh*
It's a worry, really – so much so that I hesitate to spend too much time on women like Lucy for fear of obsession. And so, I'd best just get on with the photos and leave it at that. Here's 34FF Lucy Williams from BustyBrits.com…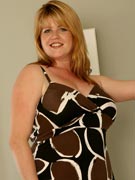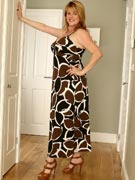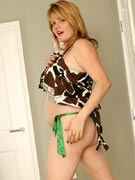 …but it was too late. After I'd selected and edited the photos for today's boob blog, I made the extremely magnificent mistake of going back to BustyBrits to see what sort of video content they had on offer for this lusty English lass. And what to my wondering eyes should appear but a full-blown female masturbation video of Ms. Williams wanking away to some random porn she's watching on the telly! If I thought that singular static view from behind had me hooked, seeing Lucy reared up on the couch with one hand buried in her crotch pummelling her pussy as she bucked and humped her hips against it. Women who wank do it for me every time, and seeing this gorgeous goddess and epitome of my ideals in womanly beauty pleasuring herself in the position I most love to see tossed me well over the edge of obsession. Thus, for you hardcore female masturbation fans amongst us, I've compiled a few of my favourite scenes of this ideal woman wanking herself off to orgasm once again courtesy of BustyBrits.com: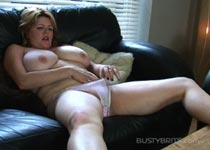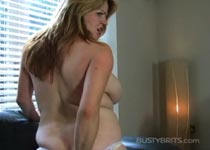 (note: actual videos available for download at the site are 640×480 resolution)
CLICK HERE TO VISIT 34FF LUCY WILLIAMS AT BUSTYBRITS.COM

Share and Enjoy
→ Return to MyBoobSite for More Big Tits ←