I've got a question for you all today regarding My Vagina Site and, more specifically, its pussy gaping header banner (which was cobbled together using a sequential progression of pussy spreading pictures captured from videos in my first post there). It's since been brought to our attention that there may be some visitors who are put off or even offended by the sight of a wide open vagina staring them in the face, thus prompting us to consider changing the greeting genitals gracing our banner. But, before we did, I just wanted a solicit some unbiased opinions (which is why I'm not asking the pussy hounds who are my vagina blog regulars). So, my dear readers, do you find the sight of a spread pussy sexy? Or are gaping genitals generally distasteful to you? Please post a comment if you've got an opinion on this…thanks!
Staying on our titular twat topic whilst bringing big boobs into the mix, I found this most beautiful rear-view photo of gorgeous 36FF Maggie Green spreading her pussy doggy-style on the stairs in a recent series posted at her Maximum Maggie personal website…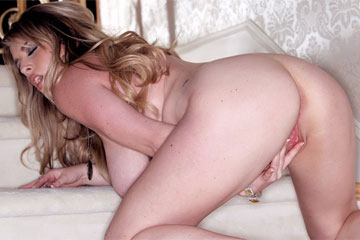 ( note: Maggie Green pussy spreading photo courtesy of MaximumMaggie )
…now isn't that just one of the most stunningly beautiful and inviting pictures of Maggie you've ever seen? Granted, it's not the same sort of close-up pussy pics like the ones we used in the vagina banner (but, to be fair, Maggie's got some of those in this sexy series as well!), but it is in the same genital spirit of keeping an open vaginal view.
But enough ado about the female genitalia, lovely and luscious though Maggie's spread labia lips may be, as this is My Boob Site after all (that said, Maggie's magnificent 36FF breasts dangling below her beautiful body in the background of the naked pussy spreading shot above renders it more than worthy of big breast lovers' ample admiration) and even talking tits over pussy would not do this busty blond goddess justice as she simply has the whole well-endowed package! Having followed her transformation from a humble redhead girl-next-door through to her more adventuresome California blonde phase, I've noticed Maggie's inhibitions relaxing nicely throughout the five-year course of her topless modelling career. In fact, I'd go so far as to say that Maggie Green has become by far the most uninhibited of all the PinUpFiles models! I rejoiced in erotic ecstasy when the good PinUp folk finally at long last saw fit to grant sexy Maggie her own website, as it meant our mammary maiden could expand her sublime sensuality and overt sexuality well beyond the bounds of the retro pin-up glamour style.
And expand she does (no, I'm not talking about her nude pussy spread again) in terms of raw sex goddess potential in what may be her most stunning nude photos ever (though I must admit losing the tan to expose her beautiful pale skin indicative of the natural redhead complexion makes a significantly sexy difference as well). Here's the sexier than ever 36FF Maggie Green in a few more preview photos from her aptly entitled Goddess Dress series at MaximumMaggie.com: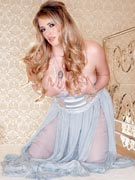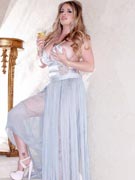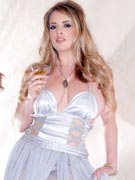 CLICK HERE TO VISIT 36FF MAGGIE GREEN AT MAXIMUMMAGGIE.COM

Share and Enjoy
→ Return to MyBoobSite for More Big Tits ←