First off, a word of warning: I have received numerous complaints from readers of MyBoobSite who've had bad experiences with the Incredible Pass family of sites regarding their billing practices. While I've not had any personal experience with them, I sincerely appreciate those of you who've taken the time to tell others of your difficulties. For those of you who don't know what I'm talking about, I would strongly suggest that you read the comments on this post before going any further.
However, one of the main reasons I started MyBoobSite was to share my love of big tits with whomever shares in said breast fetish. To that end, I receive countless promotional photos & video galleries from both models & webmasters in the hope that I'll feature them here. Some of these stand out as being particularly exceptional, and it gives me great pleasure to pass them along regardless of the website upon which they appear.
Now, I don't know about you but, most of the time, the handful of free photos & video clips that I get in such promo galleries are enough for me. It's relatively rare that I find someone or something so compelling that I whip out my credit card and sign up for membership on the site (hmmm, having said that, I just realised that I do maintain recurring memberships on five different porn sites at present: Divine Breasts, Pinup Glam, Garden of Eden, Plumper Pass & FTV Girls (it would be six, but we own the other one)).
In the spirit of sharing this bounty of free big tits porn that I'm bombarded with on a daily basis, there's a series I received recently that really stood out as being truly exceptional. It features the always stunning 36JJ Maria Moore dressed up as Little Red Riding Hood fucking the Big, Bad Wolf and getting a load of jizz on her tits. Honestly, this big boobs fairy tale fantasy shoot was one of the cutest things I've seen come out of the porn industry in a long time (well, apart from Ashley, but she's just irrepressibly cute in general).
It was then that I realised it was from Big Tits Curvy Asses, which just so happens to be one of the sites I was referring to in my opening paragraph. I was at first filled with great apprehension and couldn't decide whether I should post them or not, but then ultimately came to the conclusion that it would be unfair not to at least share the free content with you (with an appropriate caveat emptor, of course, until the situation gets resolved).
And so, here's the beautiful 36JJ Maria Moore as Busty Red Riding Hood in her latest hardcore photos & videos from BigTitsCurvyAsses.com:
36JJ Maria Moore in Busty Red Riding Hood photos at BigTitsCurvyAsses.com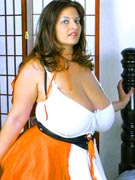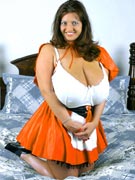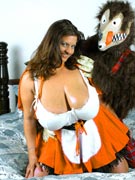 36JJ Maria Moore in Busty Red Riding Hood videos at BigTitsCurvyAsses.com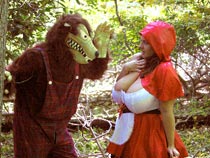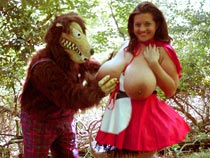 CLICK HERE TO VISIT 36JJ MARIA MOORE AT BIGTITSCURVYASSES.COM

(webmasters)
Share and Enjoy
→ Return to MyBoobSite for More Big Tits ←