I've never quite "got" the allure of a uniform. Then again, I'm not much into sexy lingerie either, preferring my women totally naked in order to facilitate easy access to all their charms. With the majority of people I've spoken to on the topic, however, most of the women tend to cream their jeans over firemen whilst it's the vision of the sexy nurse that provides an instant erection for the men. Thus, I accept that I'm probably in the minority since neither men nor women in uniform do anything for me.
That said, I did have one sexy nurse turn up in my e-mail in-box yesterday courtesy of Big Tits Curvy Asses that forced me to re-think my position…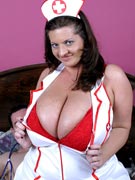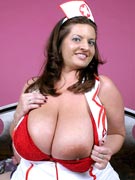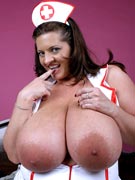 …of course, one could argue the fact that it's the lovely 36JJ Maria Moore in said uniform that "turned" me (after all, it's what's inside that counts). And, although I'd just blogged Maria's first girl-girl shoot a few days ago, I couldn't resist sharing her latest boy-girl hardcore sex-capades with you today.
Sexy nurse uniform notwithstanding, one thing that really struck me about the photos and especially videos in this series was that it represented a sort of nostalgic return to the retro comedy porn genre of the '70s (think "Deep Throat", et al). It's based upon the premise of a man suffering from a constant erection (oh, if only I could've been beset by such "misfortune" two weekends ago) so, bedridden with what appears to be a small road cone making a tent where his cock should be, he phones for emergency medical attention in light of this debilitating condition (obviously not having considered wanking as a simple solution to his penis problem).
And who should turn up but nurse Maria Moore to relieve him of the infirmity she's diagnosed as a bad case of "Rigid Cockalitis" (obviously the proper medial terminology for a Viagra overdose)? Having assessed the seriousness of the situation, Maria sets to work milking his cock every which way she can, her erection correction efforts including a handjob using latex surgical gloves, a blowjob whilst monitoring his testicular activity with a stethoscope (someone really should tell Maria that those little rubber bits at the other end of the stethoscope are supposed to go in her ears ;~P) and a luxuriously oily titfuck between her gigantic JJ-cup breasts.
Having had no joy in making him cum through these no doubt medically approved masturbation techniques, Ms. Moore resorts to raw pussy power by mounting her erect penis encumbered patient reverse-cowgirl style and just fucking him silly (as I said earlier, it's what's inside that counts – and the deeper the better). The two switch sexual positions several times before an exasperated Maria just lays on her back and jacks him off until he at long last shoots his load of cum all over her tits. His throbbing erection, however, continues unabated by orgasm, so our thoughtful cock-nurse kindly sucks the rest of his semen from the offending member thus draining his balls dry to relieve him of said sexual affliction once and for all.
All in all, this is a thoroughly modern example of comedy sex at its best, thus proving that porn can be fun, too! As MyBoobSite reader toomuch commented on my recent "Sex with a Smile" blog, "I agree with your observations about smiling or laughing during sex – should be part of the action! Maria Moore is one girl who actually seems like she's enjoying it when she does hardcore." And, indeed, the heartwarmingly fun-loving Maria consistently comes across as a girl who genuinely loves sex and thoroughly enjoys her work in the porn industry, and it's been a delight to see her cropping up here, there and everywhere as of late in both her hardcore and softcore personas.
And so, it's my profound pleasure to present the exceptionally stunning and lovely (both inside and out) 36JJ Maria Moore once again in her most recent hardcore sex role-play photos & videos for BigTitsCurvyAsses.com:
Maria Moore hardcore photos from BigTitsCurvyAsses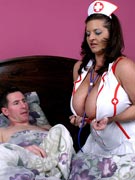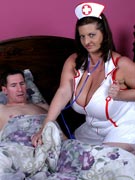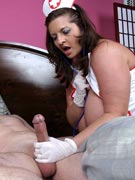 Maria Moore hardcore videos from BigTitsCurvyAsses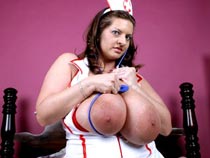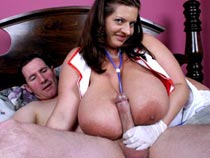 CLICK HERE TO VISIT 36JJ MARIA MOORE AT BIGTITSCURVYASSES.COM

(webmasters)
Share and Enjoy
→ Return to MyBoobSite for More Big Tits ←