Remember last Summer when I mentioned Maria Moore was pregnant? Well, as expected (since she was expecting and all), your requests for Maria Moore pregnancy pics started rolling in but, try as I might to find big tits preggo porn fans photos featuring the fecund feminine form of our fabulous fertility goddess transformed, I'm so sad to say My Boob Site's quest for her pregnancy breasts came up dry. :~(
It's understandable, really, pregnancy being a private matter. And yet, it seems society at large regards pregnant women as public property. I can't even count the number of times I've seen total strangers just go up and feel some pregnant girl's baby bump without so much as asking her permission. Why not just fondle her pregnant tits instead if such blatant disrespect for one's personal privacy is acceptable?
Thus, I can but imagine how difficult it must be for a pregnant pornstar as popular as magnificent massive mammaries Maria. Surely, she had to suffer the maternity curious masses of big breast lovers bugging her to get a glimpse of the bigger boobs & belly bump childbearing brings! Thus, I chose to respect her privacy, secretly hoping she'd share some erotic imagery from her pregnancy experience in the future.
Well, pregnant boob loving boys & girls, I'm happy to say our patience paid off big time as, even better than photos, our ever beautiful busty voluptuous vision of motherhood has just posted a most amazing sexy Maria Moore pregnancy video on her BustyMariaMoore site!..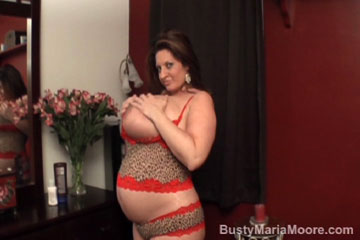 …shot back when mother-to-be Maria was nearly 8 months pregnant, the video is a maternal masterpiece of pregnancy fetish fantasy. From the point she peels her tight top off her tits and, giving those gigantic juggs a jiggle, continues sliding it seductively down her baby belly bare to expose the even more well-endowed wonder she's become through the course of conception to the present late-term, the effects of such advanced pregnancy upon her beautiful breasts & lovely large areolas is sensually self-evident (mmm, isn't getting pregnant the best natural breast enlargement alternative?). Then, dribbling her huge, pendulous breasts in baby lotion, she begins a big boobs pregnant belly massage glistening in full semi-nude glory. Oh, and that's when all the extreme close-up videos commence for an up close & personal perspective on pregnancy so intimate it feels as if we could reach out and touch her. But why am I telling you this when you can just watch for yourselves? [admin edit: Google indexing, perhaps?!] And so, a few preview clips of her Maria Moore pregnant video from BustyMariaMoore.com: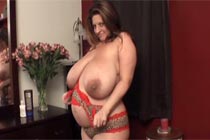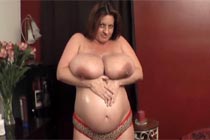 CLICK HERE TO VISIT 38K BUSTY MARIA MOORE AT BUSTYMARIAMOORE.COM

Share and Enjoy
→ Return to MyBoobSite for More Big Tits ←