Well then boys and girls, here we are then.
What is going to happen, as Reese has told you, is he will send me the pics he wants on here and I will do the writing bit.
Great. As long as I can get a buzz out of what I see, as, as you know, we don't share exactly the same tastes, Reese and I.
So, how pleased was I to find this in my in box, today. An MMF threesome. Fantastic!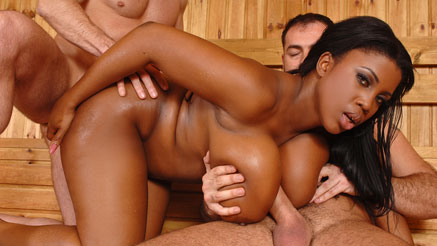 Now boys, if you have yet to try a threesome (two guys, one girl) can I ask you to be a big brave man and ask your best friend and one of your women to give it a go? And girls, same applies, grab a couple of boys and ask them… what's the worst that can happen? Well, for some, the worst that can happen is to touch todgers with another guy, but if there's a woman involved it's not gay. Just keep telling yourselves that, and you'll be fine.
And, to be honest, if the woman concerned is as lush as Maserati, seen here on DDFBusty, then you'll be hard pressed to think of anything but her.
She's pretty and has the loveliest figure, with a nice waist that most girls (read "me") would die for if they are were endowed with the bounteous booty and jiggly jugs that Maserati is blessed with.
We have been provided with the names of these two lucky, lucky guys, in this threesome, too. I do like to know peoples names. One is called James Brossman and the other is called, wait for it… Choky Ice. It's a proper porn star name, that, isn't it? Silly sod. He's probably called Cletus or someshit.
Talking of Cletus-types, I am a bit concerned by Maserati's diastema. Actually, I am worried for anyone getting a blow-job from her, as I fear for their frenulum.
Enough of my worries… it looks like they're having a grand time and I thank the marvellous, magical, masturbatory master for making my first foray (proper) onto MyBoobSite so wonderfully wanktastic to watch.
36H Maserati threesome photos from DDF Busty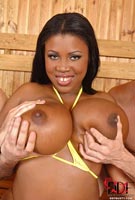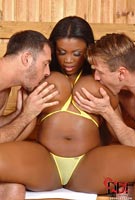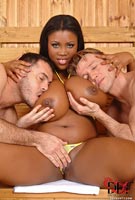 36H Maserati threesome video from DDF Busty
Loading the player…
(click here to download video preview)
CLICK HERE TO VISIT H-CUP MASERATI AT DDFBUSTY.COM

(webmasters)
Share and Enjoy
→ Return to MyBoobSite for More Big Tits ←