Living in a household where bras are verboten at best, you'd think I'd have developed an unnatural big brassiere fetish by now (one's large breast fetish fantasies are supposed to focus upon things they haven't got, aren't they?). Nonetheless, I much prefer to see my boobs braless with big tits in tight tops being the next best thing to nude (my boobs being pretty much any breasts big enough to catch my wandering eye). And, besides, if it weren't for extremely busty girls going braless, how would I ever tell the temperature?!
Thus, I can only offer my apologies for the lack of extra large bra fetish porn on My Boob Site; an over-developed oversight which I shall seek to adjust today since I've just watched a video of Abbi Secraa trying on bras over at her AbbiSecraa site…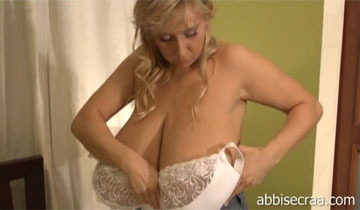 …(but, sadly, there were no bra label close-up shots so I could finally find out what her correct cup-size might be). Whilst watching adorable ample-chested Abbi adjusting her huge, pendulous breasts in bras did provide some erotic entertainment in that I got to see her massive tits hanging nude every time she took her bra off again and again wearing a different bra style each time, the whole breast fetish phenomenon of attraction to big boobs in bras as sexy is still something I can't quite manage to get my head 'round (then again, come to think of it, my first busty girlfriend went braless all the time, too, so the adolescent ordeal of learning to take a bra off a girl escaped me entirely (but my favorite bra removal quote was a dirty joke from British comedian Frankie Boyle who'd quipped, "When I was younger I really used to struggle when it came to un-doing girl's bras. Then I realised, their bras were probably different to my Gran's." (hmm, I'm drifting dangerously off-topic, here, and should probably get back on Abbi Secraa's tits before something else pops into my mind))). :~P
However, there's a lot more to this amazing Abbi Secraa video than just gigantic tits in bras (yay!)! The colossal cleavage clue, for me, came in this new series' title wherein our unbelievably well-endowed natural wonder laments, "The majority of tops are too small for me." So begins a prurient procession of sexy lingerie and see-through tops her tits are too big to fit into (personally, I think her giant boobs bulging out is the perfect tits fit / look for Abbi!) in a sensual sort of massive mammaries topless modeling busty voluptuous variety show until she gives up on clothes altogether, mounts the bed on hands & knees and, rocking her beautiful body back & forth, sets her heavy hanging tits jiggling in our general direction! But her perfectly pendulous double pendulum pair of "udderly" hypnotic breasts undulating in full mammary gland motion is the least of my worries (tee hee, "hypno-tits"!) as these totally pale in comparison to the sexy come hither look in her eyes like she'd love to feel her big boobs bouncing against me (or am I reading too much into her sensual look of lustful longing?).
Ah, there's simply nothing quite like beautiful big boobs busty blondes to melt my heart every time (and, sometimes, I feel in mortal danger of my cock melting as well with the nearly orgasmic rash of lust rush they inspire in my loins)! Oh, and lest you thought we were finished, for the big breast fans amongst you who dream of getting Abbi Secraa wet (I know I do, albeit in a slightly different way), at the end of this video, even after closing credits, we suddenly join a nearly nude Abbi in the shower washing her tits and pressing breasts against glass almost as if an erotic afterthought to her giant tits in tight tops / massive boobs in bras video from AbbiSecraa.com:
Abbi Secraa vidcaps from AbbiSecraa.com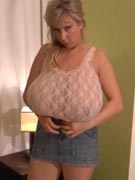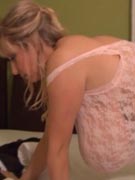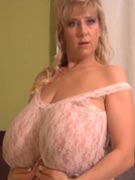 Abbi Secraa videos from AbbiSecraa.com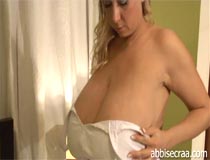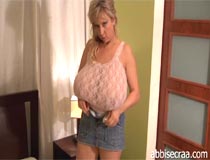 (note: actual Abbi Secraa video download from her site is 720×480 resolution)
CLICK HERE TO VISIT ABBI SECRAA NEE NELLI ROONO AT ABBISECRAA.COM

Share and Enjoy
→ Return to MyBoobSite for More Big Tits ←