Remember when I mentioned the other day that I'd signed up to Divine Breasts and got free access to their Massive Mellons site as a bonus (it's at the "streaming videos" link on DB's member pages)? Well, I've been spending a lot of time poring through their huge video archives and have found some real big tits treasures! In addition to videos from the girls of DivineBreasts and a few of their other sites – including Sarah Mercury, Dolly Morgan, Diane Poppos & Colette Marquise – there are also a number of rare vintage tit-flicks I haven't seen in years.
Among these were all of the videos I'd ever seen, as well as a few that I hadn't, of an amateur big breast model known as Melody (and, believe you me, "big" is a serious understatement here). I'd originally encountered her videos on Usenet and was "udderly" dumbstruck by the sheer magnitude of her massive mammaries. Prior to that, I think the biggest I'd encountered on-line was a G-cup. No one knows what cup size Melody was, as she only wore somewhat flimsy custom-made bras, but I'm guessing somewhere toward the middle of the alphabet. Unfortunately, my 1200 baud dial-up modem severely limited my enjoyment of these, so I was thrilled to rediscover them at MassiveMellons!
Bear in mind that these are rather old videos, thus the quality isn't the best, but they're definitely worth a look just to see Melody playing with those monster melons. Later on, when she went hardcore – which are the videos I'd never seen before – she dyed her hair blonde (is there some little-known, long-forgotten porn law that states you must be blonde to fuck on film?). Anyway, the most amusing bit occurs during the titfuck scene when Melody's sex partner couldn't find her nipple! Eh, I guess when you've got that much tit-flesh, it's easy to lose things therein (playing an impromptu game of "Where's Willy?" springs to mind).
Here are a few clips from Melody's videos at MassiveMellons.com: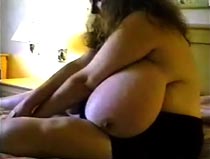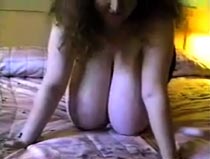 CLICK HERE TO SEE MORE OF MELODY AT MASSIVEMELLONS.COM
(Don't forget: You can get free access to the MassiveMellons video
archive as a special bonus when you sign up to DivineBreasts.com!)
(webmasters)
Share and Enjoy
→ Return to MyBoobSite for More Big Tits ←