Despite what the likes of DDFbusty might show and tell us, I just cannot believe that that many women would masturbate with their vacuum cleaner.
Why? Well, let's be honest, women are the ones that might use the appliance for it's intended purpose and are familiar with just how filthy the business end gets. But just because I find the thought of getting a Hoover-job quite nasty, I do realise that, despite my voracious sexual appetites not producing this desire in me, it does not mean that other women have not felt the need to test whether the claim that "Nothing Sucks Like An Electrolux" has any validity.
So, perhaps foolishly, I used a search engine to look up female masturbation with a vacuum cleaner.
Of course, there are plenty of articles telling you either not to do this at all, or, more helpfully, telling you how to do this safely – if you are a man*. For women, pretty much all I get is porn. Not a problem, but it does validate my initial response to seeing the following photos and video, which was: "Women just wouldn't do that, unless being directed to do so, in front of a camera!"
Loading the player…
(click here to download video preview)
OK, so Merilyn Sekova (aka Busty Merilyn/Anya Busty/Anna/Serina/etc) is here to make my point/prove me wrong. To be fair, I don't care either way. When I'm looking at a set of 32 G knockers attached to a sublime body like that of Merilyn… she can do what she damn well pleases. Maybe getting her labia and clitoris sucked off by a household appliance is her thing. She'd not be alone, it seems, but she would be in a minority (apart from in porn, as I say).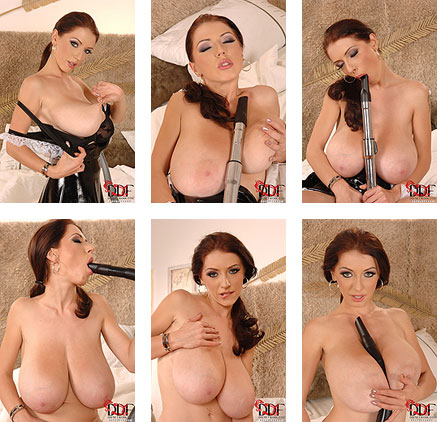 CLICK HERE TO VISIT 32G MERILYN SEKOVA AT DDFBUSTY.COM

(webmasters)
*Hard Pour Corn and it's associated companies and holdings in no way advocate inserting your penis into any electrical device unless said device is specifically intended for such purposes. Especially if said electrical device has blades of any form. Well- DURR! Why on earth would you do that?!? Whilst we're on the subject – don't stuff anything glass up your anus, either. Glass is just an example, but I think you get my point.
Share and Enjoy
→ Return to MyBoobSite for More Big Tits ←