I stumbled upon two pairs of big tits today gracing the ample chests of as many busty girls at Scoreland whom I found immensely attractive for precisely the same reason despite the rather dramatic cleavage contrast between them…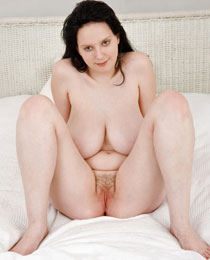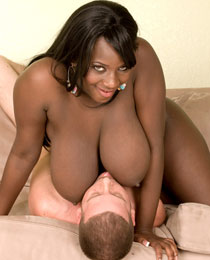 …with 36F Nadia on the left, it wasn't the fact she was knees up naked in bed presenting her pussy in a pose worthy of My Vagina Site, nor was it that 36H Farrah to her right had her massive black breasts dangling in some lucky bloke's face for a tit smothering suckle. No, with both, it was merely a matter of the anatomical qualities of the largest sexual organs on both girls' beautiful bodies (and I'm not talking about their big boobs here, either).
Indeed, it was these sexy girls' skin that served as the primary sexual stimulus awakening the roots of my attraction (hee hee, "awakening the root of my attraction" would make a good euphemism, wouldn't it?). In Nadia's case, it was the milky white complexion of her almost translucent epidermis the set my heart aflutter. While most mainstream porn tends to focus upon darker tanned models, I just love a busty girl with ghostly pale skin upon which you can trace the lovely lines of visible veins across her chest and breasts to your epidermal distraction. It's one of the things I love about living in Britain that pale-skinned girls with large breasts are the norm here (although there has been an alarmingly growing trend of British girls getting horrible fake tans of late). Farrah, on the other hand, represents the polar opposite in the sensual spectrum of flesh that is silky skin complexion. Powdery smooth and deliciously dark with massive mocha mammaries leading my to imagine that fondling her beautiful big black breasts and nuzzling her colossal chocolate cleavage would be like stroking black velvet of the voluptuous vixen variety. But, of course, my enduring desire to wallow in the well-endowed wonder of her enormous ebony endowments is merely a matter of me fantasizing over something I don't have.
And so, in addressing the age old question of light meat vs dark meat by embarking upon an excursion into epidermal erotica (don't ask me as I'll just take both in a sandwich, please! mmm, succulent milk chocolate tits with an extra-light side order of pretty pale vanilla pussy anyone?), here are the dramatically contrasting nude flesh-tones of sexy skin big boobs beauties 36F ghostly white wench Nadia and 36H busty black babe Farrah from Scoreland.com:
36F Nadia brings Milky White Boobs to Scoreland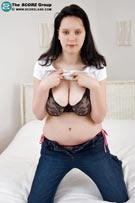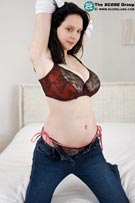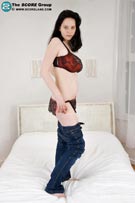 CLICK HERE TO VISIT 36F NADIA AT SCORELAND.COM
36H Farrah brings Big Black Tits to Scoreland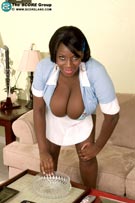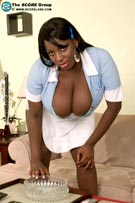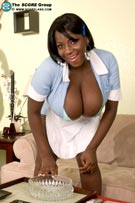 CLICK HERE TO VISIT 36H FARRAH AT SCORELAND.COM

(webmasters)
Share and Enjoy
→ Return to MyBoobSite for More Big Tits ←