The enormous tits of Norma Stitz have been a long time coming to MyBoobSite. She's been referenced in countless comments in my posts about Melody, Liana, Karola, Jenny Hill and others. However, she'd never been on a site from which I'd had express permission to feature her photos & videos – until now, that is, with her appearance at EbonyIncrediblePass…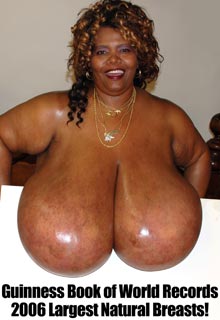 …but before I get to Ms. Stitz, I have one other important matter to attend to. As you may have already surmised by the name, Ebony Incredible Pass belongs to the same family of websites as Big Tits Curvy Asses – a site that I'd recently complained about in a most vehement manner with regard to their blatant disrespect toward women and your comments to that post whole-heartedly supported my views. But there was one other individual who took notice of how we felt and took it to heart – the video producer and affiliate manager of Incredible Pass themselves. In response to the issues we'd brought to light, he issued the following public statement in thanks for our feedback…
Guys, I wanted to express my sincerest gratitude, in assisting me, in providing valuable Big Boob advice! This has helped us improve our content 110%, especially in the way, we have been treating our unbelievable, big boob discoveries on Bigititscurvyasses.com Although we are extremely hardcore in nature you will not see any new cumbrushing or writing on the foreheads! We stopped this 6 months ago!

Guys, your input has motivated me to take this site to a new level. Also, I have recently found other unbelievable, big boob babes that I will share with you on The Breast Files and YES we are on a bit of a roll! Smile We are now one of the TOP RATED Big Boob sites in the world!
…so you see? We can make a difference! In addition to being the big breast lovers that we are, we're also doing our part in advocating models' rights and just being generally supportive of big breasted women from all walks of life. Keep up the good work!
Back to the far more-than-a-mouthful massive mammary matters at hand: Born Annie Hawkins-Turner in Alexandra, Virginia, this exceptionally well-endowed lady first burst onto the big boobs scene in the July 1994 issue of Plumpers & Big Women, choosing the play-on-words "Norma Stitz" as her pseudonym. Gent, Hustler & Juggs magazines soon followed suit, making Ms. Stitz an instant adult industry sensation, culminating in her winning AVN's Adult Video Nudes award in 2003. But Norma's fame has by no means been limited to the big tits porn world. In 1999, Norma hit the mainstream media when she was informed that she'd been awarded the Guinness Book of World Records title for having the largest breasts in the world!
Now, I do recall a comment on one of my previous blogs claiming this honour Norma received never really happened and that the good people at Guinness didn't even have a category for "Biggest Breasts in the World"! This motivated me to do a little research of my own, culminating in my finding the following excerpt from the 2004 edition of the Guinness Book of World Records: "Largest natural breasts Annie Hawkins-Turner (USA) has an under-breast measurement of 43 in. (109.22 cm) and an around-chest-over-nipple measurement of 70 in. (177.8 cm). She currently wears a US size 52I bra, the largest available to buy, but by American bra estimation, her measurements would put her in a 48V bra, which is not a manufactured size."
So, yes, Norma Stitz does indeed have the biggest boobs in the world according to Guinness. In fact, she's held this title consistently from 1999 onwards. And so, it gives me great pleasure to present the biggest tits ever featured here on MyBoobSite, the massive 72ZZZ mammaries of the incomparable Norma Stitz from EbonyIncrediblePass.com…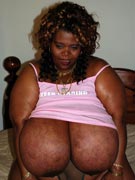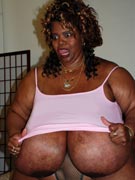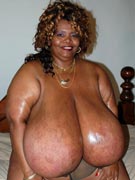 …in addition to the photos, the dudes from EbonyIncrediblePass also saw fit to share this minute-long video trailer so we could see Norma Stitz' ZZZ-cup tits in full mammary motion (thanks, guys!):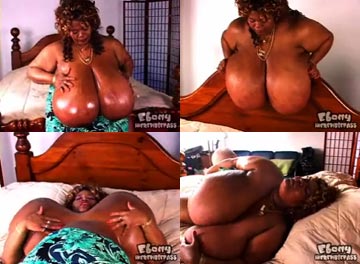 CLICK HERE TO VISIT 72ZZZ NORMA STITZ AT EBONYINCREDIBLEPASS.COM

(webmasters)
P.S. BREAKING NEWS: You can now chat live with Norma Stitz on webcam (and ogle her most massive breasts if you like at well) at ImLive.com!
CLICK HERE TO CHAT WITH NORMA STITZ AT IMLIVE.COM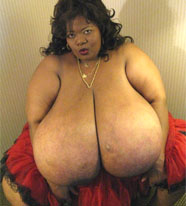 More Big Tits from ImLive
Share and Enjoy
→ Return to MyBoobSite for More Big Tits ←