No, I'm not talking about exploring big breasts at the macro level, rather I'm wondering today what suddenly causes one to become obsessed over a particular model or even a single photo? Case in point, this photo of Joana from BigTitsGlamour…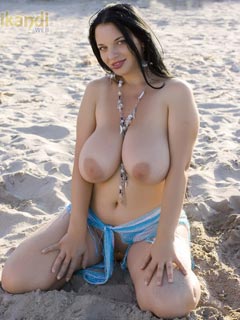 …now, Joana's no stranger to MyBoobSite. On the contrary, I've featured her here and here and here and even as far back as here, and those are but a few examples. Although I'd found her decidedly attractive with beautiful breasts and a body to match, I'd never paid that much attention to her and she'd never been included amongst my top 10 big tits models. However, when I encountered that singular photo above, my attitude toward Joana changed dramatically.
I found myself studying, nay obsessing over this image for countless minutes and in profound detail. Contrary to my typical habit of making a bee-line straight to the tits, I started with Joana's face, those haunting grey-green eyes piercing into mine, full red lips parted into a sly, sexy grin beckoning me, the delicate facial features all framed in the flow of her gorgeous mane of jet-black hair. Tracing down the canted curve of her lithesome neck, I followed her necklace ever downward until it plunged into her cleavage and became totally consumed in the contours of her fascinating breasts, perched upon her chest as a perfect counter-balance standing out in contrast to her slender frame. Regaining sight of the necklace as it emerged from beneath the luxurious comfort of her cleavage, I continued to trace its descent, following it with my eyes down the softness of her abdomen until it terminated alongside her cute little belly-button. Lingering there for but a moment, I resumed my enthralling visual examination of her exceptional feminine form. The incomparable treasure soon to follow was almost beyond the descriptive realm of mere words as I made a southward sweep with the stroke of my gaze – now sandwiched between her legs, my line of site surrounded by her strong thighs – and at long last came to rest lodged firmly within the silhouetted cleft of her clean-shaven pussy.
So what was it that transformed my former indifference toward Joana into an obvious obsession? Having become somewhat immune to porn based upon the sheer volume of photos & videos I'm faced with every day in my work, I generally just gloss over things without paying particular attention to the subject matter, but the sensual allure captured in that one photo gave me pause (not to mention propelling the lovely Joana into my list of favourites). Frankly, I blame the photographers at Big Tits Glamour for my curiously obsessive behaviour, as they seem to have a knack for uncovering the essence of fantasy and sensuality in their imagery (and, indeed, these were the same folk who'd inspired my breast worship blog not so long ago).
The rest of the series was equally stunning with 91 high-resolution 1536×1024 photos in all, and I faced the utmost difficulty in selecting a representative subset of them to feature here today (as one photo, despite its inspirational value, does not a blog make). And so, here's a sampling of a few more of the photos of Joana from the series that made me stand up and take notice (in more ways than one), courtesy of BigTitsGlamour.com: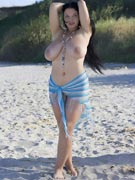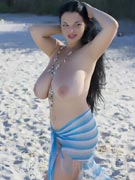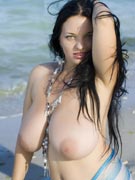 (note: actual photos on the site are 1536×1024 resolution)
CLICK HERE TO VISIT JOANNA BLISS AT BIGTITSGLAMOUR.COM

Share and Enjoy
→ Return to MyBoobSite for More Big Tits ←