March 31st, 2014
With Irish, Scottish and Cherokee heritage, 40 year old sex-bomb Stephanie Stalls is from Tennessee and now lives in Kentucky.
Listed as having 34 F-cup fun-bags (which I disagree with, simply by looking at her) she is a sexually agressive girl who fucks and sucks like the Duracell bunny.
The tattooed temptress is getting her rocks off with a young lad, pouring champagne over her teriffic tits and having the chap schlurp the bubbly beverage from her big boobs.
Stocking fans will be pleased to hear that that is all she leaves on, well, that and her sexy high heeled shoes. (Somewhat of a necessity for such a petite pleasure pussy standing at just 5'2″.)
That copious 40″ chest is being utilised to it's full force as Stephanie straddles her stud and rides him hard, leaving him prone, as if she were a savage succubus, satisfying her sexual appetites.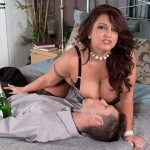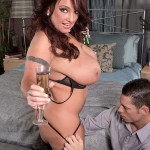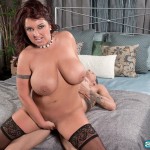 CAN'T SEE THIS VIDEO? CLICK HERE FOR AN MP4 VERSION
Click here to visit Stephani Stalls at Scoreland.com

Share and Enjoy