November 19th, 2013
Today, November the 19th, 2013, is the 150 (or seven score years and ten)-th anniversary of Abraham Lincoln's famous Gettysburg Address.
Hence the title of this blog. For which I apologise.
I felt like I should acknowledge the anniversary of such an important part of history.
So, why apologise? Of course, I felt the need to tittify part of the speech. As a Brit, I am none too familiar with Lincoln's oration. So I'm afraid the above is the best I could come up with.
Then I realised, when I read it aloud-in-my-head, that I was basically calling Reese and myself a pair of tits. And if that is the case, then I may well be calling you, dear reader, a bit of a boob. Not intended, I promise.
But Reese and I are a pair of tits. OK, I am a bit of a tit. (Or… we could be calling my breasts "The Breasts", but I am all to aware that there are more deserving norks than mine out there – even though they are my lady-lumps in our logo at the top of this page.) Also, that would mean my tits are typing, here.
Now, to be honest, my nipples may occasionally hit the space bar, if I am using my laptop on my lap, but never has the boobage had the dexterity to complete a word, let alone a whole blog.
One set of tits that is more deserving than most to be called the breasts, belong to April McKenzie.
April hails from Georgia, US, and is 29 years old.
Measuring up at 44-32-40, April is a chubby blonde with amazing natural norks.
Her massive mammaries are in need of her H-cup bra, as they are perfect, pendulous, heavy hangers.
All the better for a slow motion video of April playing at cowgirl, straddling a make-shift saddle and riding it like a pro.
Slo-mo is splendid for these swinging fun-sacks. Sloshing from side to side, bobbing and bouncing, those boobs get a serious work-out.
Proving that not all breasts are created equal.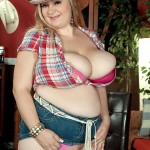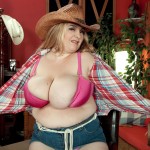 Click here to visit April McKenzie at XLgirls.com

Share and Enjoy