October 10th, 2014
Don't you just love it when a model comments on her own blog entry?
I know I do. It's nice to know that your work has been noticed and maybe even liked by the star.
Such has just happened. Claudia-Marie commented…
Hey guys..This is the Claudia Marie..I know its a little late but I just discovered this site/blog and thank y'all for the kind words . I don't usually look for myself cause some people can be dang right mean so I choose not to look at those…lol..but I love that yall are liking my stuff and I plan on doing this for a long time to come. However it has been a few years since these post and I have had my boobs done (much to the dismay of some) but they are now 50 J's ..silicone ..but as soft and bouncy as the real ones….
…when she saw this post, from 2007.
I needed to alert you all to this as, as the blog concerned is from seven years ago (coincidentally, the same amount of time since Claudia-Marie last worked with the model she is playing with, below), you may not even have known it was there.
Of course, what better reason to find some more work from the massive, man-made mammaries of self-confessed cum-slut and whore, Claudia-Marie.
50 J-cup Claudia has managed to lure another tit-job-totty, Minka, to cum and play.
44L, 44 year old Minka (AKA Satin), was born in South Korea and is now an American citizen.
And yes, those big, blown-up boobs are enhanced with (the no-longer-legal) string implants.
All-American Claudia-Marie is from North Carolina. She is 40 years old and those implants are 2200cc each, I believe.
Of course that's 2200cc each. Would be a bit queer, if it were just the one. *tsk*
The two together give us a lesbian, balloon-boobed, bouncy bonanza.
Loading the player…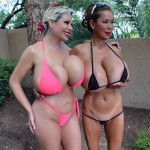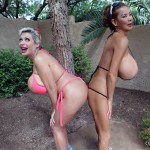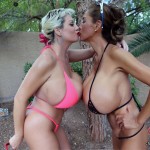 Click HERE to see EVEN MORE of huge-hootered whore, Claudia-Marie.

Share and Enjoy