August 26th, 2014
This leggy lady likes to wear stockings. She suspends her nylons on garter belts and tends to also wear hugely-high heeled shoes. The whole effect framing her ass (and pussy) in a quite delightful way.
But wait… there's more to this mature English lady than legs and nylons!
The 42 year old, British beauty, Jan, also has big boobs. Lovely tits that defy her age. Her whole body does, to be fair.
Standing at 5′ 8″, Jan certainly is leggy, and she's tanned (all over, of course), slim and stacked.
Measuring 39-28-36, her lady-lumps linger in a 30 GG-cup.
Jan is not afraid of sharing, as evidenced by her penchant for posing her pussy pictures. Her tight twat has tidy flaps. Her neatly trimmed, Brazillian-style pubes cause no offence to those of us who prefer a clean-shaved cunt.
Lady Jan also likes to share her thoughts and experiences. Here is a sample of what she shares on her site:
Favourite Sexual Position: Doggie. I love it deep inside. You can grab my hair and pull my head back too if you like.

Most outrageous sexual experience: Still searching. Already done the "in a field", "in a car", "in an elevator", "in a hotel laundry room (got cum on the clean sheets .. oops)", " in my mum's bed (don't read this mum, just joking … not)". Probably the most outrageous to date was on a large wooden kitchen table in front of about 12 people.

Most enjoyable sexual experience: The first time I had sex with two men at once I was SO excited I orgasmed several times. At the start I was nervous, it was with my boyfriend and his best friend. It was the first time his friend had seen me naked and I LOVED every minute of it. Also I had sex with my hubby all night, well at least 7 hours. It was fantastic .. we slept all the next day.
And, of course, photos of her beautiful breasts: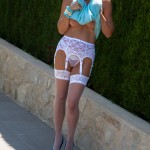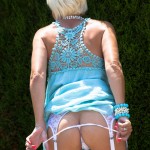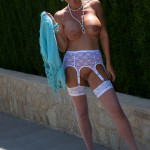 CLICK HERE TO SEE MORE ON JANSNYLONSEX.COM

Share and Enjoy