September 19th, 2014
Bailey Santanna (AKA Bailey, Bailey Blake, Buffie, Tiffany Blake) is a blue-eyed blonde, from the good ole' USA. She will be 35 on the 25th of September.
Here, the buxom babe is playing at being a seamstress. A job the entails taking a chap's inside-leg (or inseam in Amer/English, I am told).
Whenever this measurement is taken I cannot help but, being Brirish, giggle to myself as if I were watching a Carry On film.
Of course, what happens next is something I have never seen in a Carry on movie.
36G Bailey feels the need to ask if she could play with her client's penis*.
Using every inch of her 43-32-38 body, Bailey is certainly not going to be underpaid for her work.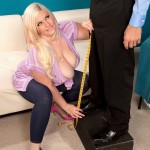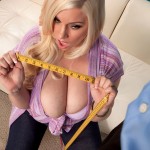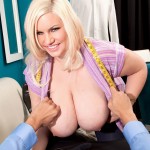 Click here to visit Bailey Santanna at XLgirls.com
* Like, he's gonna say "No, you may not!"

Share and Enjoy