July 25th, 2014
I don't know if you're familiar with the graphic novels in the style known as Manga (if not, click HERE) but women and girls seen within this genre are, generally speaking, ridiculously breast blessed.
Like this: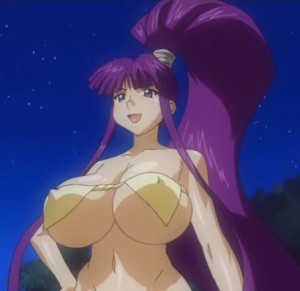 However, it'd be rare that actual women ever cum built like this.
Then there's Amy Anderssen.
Canadian Lebanese, Amy (AKA Amy Azzura, Amy Azzurra, Amy Juggs, Barbi, Barbie, Barbi Hardcore, Jayna James), is 29 years old.
Of Lebanese heritage but Ontario born, Amy now lives in California, US.
42-26-40 are Amy's measurements. She wears a 34GGG size bra. As I have noticed by the raggy-arsed state of the underwear she is wearing in these photographs and video, it appears that she has understandable trouble finding one that fits those tits.
I do know that the raggy-arsed bit is the style. However, it is just too damn small!
With that waspie 26″ waist and the (surely as enhanced as the boobs) big, bouncy butt, Amy could be every school-boy's dream*.
The movie, below, has our brunette Barbie-doll bashing her button (flicking her bean, playing with the little man in the boat, finger-fucking, wanking, jilling-off, tossing herself off… I guess masturbation is the word I am looking for here) as if she were a particularly rampant rabbit.
On all fours she plays with herself whilst doggy-style, presenting her tight pussy and swollen clit to anyone who would care to see.
*I'm betting that quite a few others will keep quiet/lie about the cock-twitches she conjures up.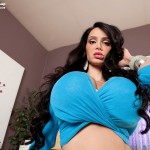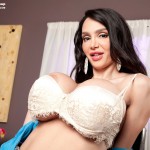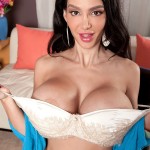 CAN'T SEE THIS VIDEO? CLICK HERE FOR AN MP4 VERSION
Click here to visit Amy Anderssen at Scoreland.com

Share and Enjoy