MYBOOBSITE NEWS FLASH: Remember my "Biggest Boobs in Britain" post way back in December 2005 within which I mentioned 32JJ Rachel Aldana for the firs time ever on My Boob Site? Well, it's been almost two years since that particular boob blog – which, to date, has been my most popular with 113 comments at last count – and I've just received breaking news that JJ-cup Rachel has at long last relented to the countless boob-lovers' requests and gone totally topless for PinUpFiles!! :~D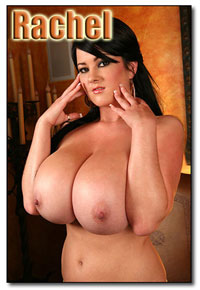 I realise I'd just made my weekend post here what seems like mere moments ago, but I just had to jump back in to share the good news (and a few photos) with you all and welcome Rachel with open arms into our on-line community. Big thanks due to my mates Lampwick & Drew, who both e-mailed me within moments of each other to alert me of this most wonderful development in the big boobs world!
Although Rachel was stripped of her Biggest Tits in Britain title in a follow-up article which cited 34KK Chloe Rogers as the new busty benchmark to beat, she's certainly got what it takes to achieve superstar status in the big boobs biz. Kudos to the good folks at both PinUpFiles & PinUpGlam for dragging Rachel out of the woodwork.
And so, here's what we've been waiting for for the past two years – busty British babe Rachel Aldana finally getting her huge tits out – unleashing those gigantic JJ-cup juggs for all the world to see. Here's a handful of small preview photos (the ones on the site are a massive 1796×2680 resolution) featuring slim-n-stacked 36JJ Rachel Aldana topless for the very first time ever courtesy of PinUpFiles.com: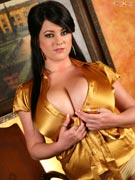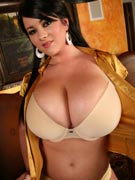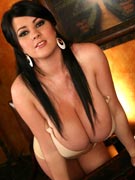 (note: actual photos downloadable from the site and 1796×2680 high-resolution)
CLICK HERE TO VISIT 32JJ RACHEL ALDANA AT PINUPFILES.COM

Share and Enjoy
→ Return to MyBoobSite for More Big Tits ←