Rachel Aldana – perhaps best know for having the biggest breasts in Britain – also has a lesser known title to her credit (albeit one that I've personally bestowed upon her): Being the ill-fitting bikini queen of MyBoobSite. Don't get me wrong, I love Rachel dearly and think she's a genuinely gorgeous girl. I also understand how frustratingly difficult it must be for someone of such an extreme breast to body ratio – slim & stacked almost beyond measure with massive tits and a slender body that, when put together, resemble something more of an adolescent boy's fantasy girl than something one could ever hope to encounter in reality – to find matching clothes that actually fit both big top & little bottom (buying separates, it's the way forward).
One need only look at my past Rachel Aldana blogs for ample evidence of my bad bikini claim. The first time I featured Rachel in a bikini, the overall fit wasn't so bad but the shape didn't really do much to flatter her fabulous bust-line (erm, nice cleavage, though). The second one was even worse, a string bikini with tiny triangles of material failing to cover even a fraction of the acres of boobage with which she's endowed (indeed, there were big tits spilling out all over the place with that one)! And the third, taken from the series shot when Denise Milani visited Rachel, has her huge boobs bulging out from the bottom!! To illustrate my point, I've assembled a few thumbnails as a brief historical retrospective on Rachel Aldana's bad bikini mishaps…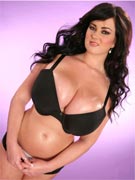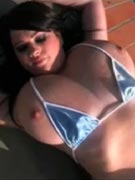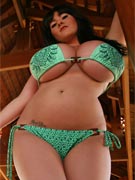 …I can understand the rationale from the breast-centric porn perspective: Take a girl with big tits and put her in a bikini that's way too small for her to make her breasts look even bigger! So I suppose we should forgive lovely Rachel for her string of bad bikini choices, as it's probably not her fault. But, even if it is, who can blame such a beautiful busty babe as amply endowed as Rachel for wanting to show off her breast assets?
Anyway, I was visiting her Rachel Aldana website today only to find to my pleasant surprise that our lovely L-cup English lass had at long last found a bikini top that actually fits her tits! No more quadraboobs. No more nipple slips. Just a good fitting top with an adequate cup size to keep her massive mammaries in check, thus minimising the potential for wardrobe malfunction! Granted, this is not necessarily a good thing from the big breast lovers' perspective, as we'd probably prefer that such well-endowed women wear the sort of clothing that leaves their huge boobs hanging out hither, thither & yon. Still, for practicality's sake, it's nice to see Rachel finally happen upon a hooter hammock that provides adequate support for those gigantic juggs of hers. And so, in celebration of the good fit she's found, here are a few photos of 32L Rachel Aldana in her new blue bikini from RachelAldana.com: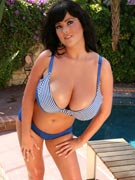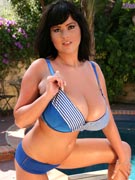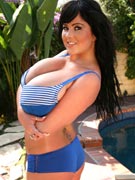 (note: actual photos available for download at the site are a minimum 2976×1739 resolution)
CLICK HERE TO VISIT 32L RACHEL ALDANA AT RACHELALDANA.COM

Share and Enjoy
→ Return to MyBoobSite for More Big Tits ←