Oh, it's good to be in Britain! Sure, compared to my former life in Florida, the weather is bone-chillingly cold, the water pressure sucks, conveniences are comparatively non-existent and, to belabour the first point, we get, at most, three days of proper Summer per year. But the tits – yes, the tits – are a sight to behold. In fact, I'd go so far as to say that Britain has the best breasts in all the world. Sure, the might not be the biggest boobs of all-time (I believe it's either Romania and/or Poland that have the massive mammary monopoly there), but it's not all about sheer size for me. No, moreso than the mass, I prefer my big tits to have a milky white complexion – providing a greater contrast with the areola and rending any veins on the breasts more visible (which, quite possibly, is why I didn't find the overly tanned tits of Florida to be a turn-on in the least) – and the vast majority of the English girls I've encountered are so light-skinned as to almost be translucent (and, if you've ever held a bright light against the breasts of a busty British girl, you'll know precisely what I'm talking about)!
Perhaps of even greater import is that British women are proud of their breasts. Not a day goes by that we aren't treated to a nice pair of naked tits in one or more of our national newspapers, and not a week passes without seeing some program featuring bare breasts on the telly. In fact, it was the British mainstream media which first broke the story of enormously endowed English lass Rachel Aldana two years before she made her debut in porn. Coming as I did from a rather sexually repressed & conservative America (judging from the mainstream perspective), I found the breast-obsessed culture of Britain most refreshing as well as a well-endowed wonderland where big boob lovers like myself could freely get their fill.
It was scarcely six months before I'd decided to pick up stakes and move "across the pond" that I'd first discovered the Busty Brits website. I'd been chatting to a couple of British girls on-line and, although they'd shared a few photos of themselves with me, these weren't terribly revealing and I really wanted to see what they might look like naked. So I started surfing for porn (as you do), looking for busty women who resembled those I'd been talking to to help fuel the fantasy – and that's when I happened upon the stunning 38GG Imogen who, apart from having significantly bigger tits, bore a striking resemblance to the one girl amongst my messaging mates with whom I'd developed a deep personal connection which, as a result of her incessant urging, rapidly developed into the torrid on-line affair that changed my life (ah, but you all know the story).
Anyway, ever since that time, BustyBrits has held a special place in my heart and I remain a member to this day purely for sentimental reasons. However, it must be said that they've got some great big tits there as well! And so, rather than keeping my subscription selfishly to myself, I thought a potpourri post of British breasts from some of my current favourite busty models there might be in order – 36G Amber Hall, 38F Taylor Black, 34FF Jenny Jones, 38GG Jelena Jasper, 36G Zara & 36G Amber Hall (yes, I realise Amber's here twice, but she's currently my 2nd favourite on the site next to Lucy Williams) – in this sexy selection of random tits from BustyBrits.com: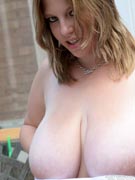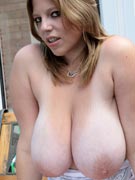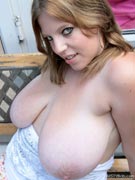 (note: actual photos available for download from the site are 1500×1000 resolution)
CLICK HERE TO VISIT BUSTYBRITS.COM

Share and Enjoy
→ Return to MyBoobSite for More Big Tits ←