I cannot believe that MyBoobSite has been around for well over three years now and I've not so much as broached the topic of reverse titfucking – the sublime breast sex practice wherein you straddle your supine partner facing her feet whilst she squishes her boobs together to create a carnal canal for your cock to copulate with her cleavage. Although there is the distinct disadvantage that your ass will be positioned precariously close to her face and one wrong move or misplaced thrust could result in your inadvertently engaging in anal sex with her nose, the reverse titfuck position with your balls on her chin does open the door to teabagging and testicle licking – if you're at all into the ball sucking oral sex sort of thing, as I personally prefer my testicles to be off limits during sex with the exception of have a nice set of long fingernails raking across their seam – or, optionally, analingus. Further, the reverse titfuck being a variant upon the classic 69 position – one of my personal favourites – you also have the erotic option of fingering your partner's pussy and performing cunnilingus upon her whilst your cock & balls are otherwise occupied with her breasts & mouth! Yup, it's titfucking, teabagging, analingus & cunnilingus all rolled into one!! Indeed, what other perverse perversion of sex positions permits a cunning couple to engage in four distinctly deviant sexual practices at once?!
Now, the reason reverse titfucking has never quite made it onto the big boob blog is that I've never had appropriate content through which to demonstrate all of the perverse possibilities this position has to offer. However, this all changed today upon visiting Hot Sexy Plumpers wherein I found hardcore videos of the lovely 36J Simone doing literally everything I could hope to describe. Although the reverse titfuck action included in this scene goes on for quite some time, I've edited together a couple of extended porn tube style clips to show you what I'm talking about…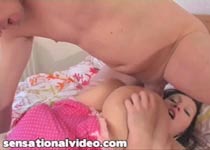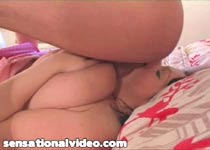 …ah, udderly lovely, innit? All the better for featuring J-cup Simone, who's been on my radar ever since I first saw her fucking for Big Tits Paradise nearly a year ago. The combination of her voluptuous body, huge tits and horny disposition made Simone an instant favourite. Fast forward to October of 2008 and, to my immense delight, Simone joined Hot Sexy Plumpers – my all-time favourite big boobs plumper & BBW porn paradise! So how apropos that Simone would indulge my long-standing desire to bring reverse titfucking to MyBoobSite?
However, reverse titfucks aside – a phrase which conjures curious mental imagery of yet another variation on titfucking wherein one would insert the penis into their partners inframammary fold for a sideways titfuck – there's really so much more to this feature length hardcore video which includes some sensual cock sucking, forward titfucking, reverse cowgirl & doggy style sex and straightforward classic missionary position before the bloke blows his load all over sexy Simone's face whereupon it dribbles down her chin and onto her huge breasts. So there you have it – forward & reverse titfucking, teabagging & ball licking, cunnilingus & analingus, pussy fingering & solo masturbation, breast squeezing, boob fondling & self tit sucking, handjobs & blowjobs and a variety of sexual positions all topped off with a nice cum facial which Simone proceeds to slather all over her face using his foreskin & frenulum as a sort of phallic applicator before sucking his spent cock sensually back into her cum filled mouth for one final suck whilst massaging his balls. When all is said and done, Simone imparts a parting kiss on the cock head for good luck as this amazing video draws to a close.
Oh, Google's gonna have a field day indexing this one! However, I think I'm done writing for now and have only to show you the photos & videos from this supremely sexy series starring the stunning 36J Simone and her J-cup breasts courtesy of HotSexyPlumpers.com:
36J Simone big tits hardcore photos from HotSexyPlumpers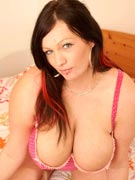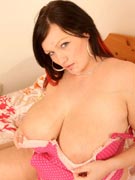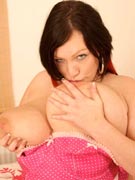 36J Simone big tits hardcore videos from HotSexyPlumpers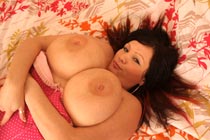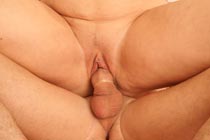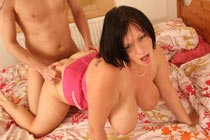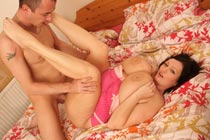 CLICK HERE TO VISIT 36J SIMONE AT HOTSEXYPLUMPERS.COM

(webmasters)
Share and Enjoy
→ Return to MyBoobSite for More Big Tits ←