Last time we visited young Terry at Boobs.pl, she wasn't terribly tits out at the time. Sure, there was that one full-frontal photo I'd linked to in the text to prove that Terry did indeed go totally topless from time to time, but that was about it. The truth is, we get to see her H-cup breasts hanging free in most all of her more recent photo series, and so I thought I'd bring her back to MyBoobSite to set the record straight.
In answer to a few of your queries on my last Terry blog: To Sam; rather than being English or Polish, busty brunette Terry hails from the Czech Republic. To FutureInt; yes, she is the same girl from that tit-sucking video with Cel. To Mad Dog; dunno, but it seems that all the biggest boobs are bouncing out of the old Eastern Bloc countries at the moment, dunnit? To Jes; of course it was because Pamela's a blonde! To dum de dum dum (albeit a bit off-topic); I've been averaging about 20,000 visitors a day here in recent times. Oh, and Druid? We don't mention that Nadine Jansen here! ;~)
But back to the tantalising Terry, her delightfully pendulous 34H tits out this time, courtesy of Boobs.pl…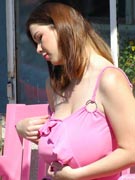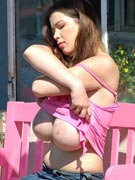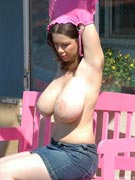 CLICK HERE TO VISIT 34H TERRY AT BOOBS.PL
…as I was already on the site, I decided to fetch a few photos of another forgotten favourite as well: 35HH Iva Kleinova. The last time I'd blogged Iva was well over a year ago (shameful, I know) when I featured her and "little" sister Eva in the shower together. Astute readers quickly commented that a younger, thinner Iva had appeared here previously in a photo gallery posted in my Voluptuous blog as well as on videos from Scoreland and the BangBros' Busty Adventures, the latter under the monicker Mandy May when she was a mere 19 years old.
Now 23 (as of July 23rd, coincidentally) and having put a bit more flesh on her bones, I must admit that I'd take the "new & improved" semi-voluptuous Iva Kleinova over her prior incarnation as pierced-tongue busty teen slut Mandy May any day. Besides her tits are a lot bigger nowadays, having since grown to an HH-cup by virtue of the weight gain (being one of those profoundly fortunate women for whom the extra fat makes a bee-line for their breasts). But while she's still got the piercings and is slutty as ever in her solo work, I would dearly love to see Iva once again with something other than a dildo in her mouth on occasion.
Ah, but one can always live in hope. In the meantime, here's a bit more of 35HH Iva Kleinova from Boobs.pl: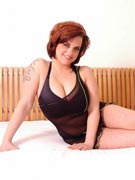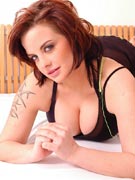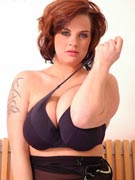 CLICK HERE TO VISIT 35HH IVA KLEINOVA AT BOOBS.PL

Share and Enjoy
→ Return to MyBoobSite for More Big Tits ←