HAPPY HALLOWEEN everybody (and, for all you of the pagan persuasion out there, blessed Samhain)!! :~D
After last year's soft & fluffy Halloween post featuring cartoon boo bees, busty chocolate ghost & owl lollies and the luscious Liana from LushBoobs in her bewitching costume, I resolved that this year would be different. I wanted to find something that would truly scare the pants off big breast lovers like myself. Trouble was, apart from my "Big Boob Nightmares" blog a while back and the odd cleavage crawler, I couldn't find anything breast-related that was particularly frightening.
After all, what could be scary about tits? As the great George Carlin once said in his 'Seven Words' monologue, "It's such a friendly sounding word. It sounds like a nickname, right? 'Hey, Tits, come here, man. Tits, meet Toots. Toots, Tits. Tits, Toots.' It sounds like a snack, doesn't it? Yes, I know, it is a snack. But I don't mean your sexist snack. I mean, 'New Nabisco Tits'! And new Cheese Tits, Corn Tits, Pizza Tits, Sesame Tits, Onion Tits, Tater Tits. 'Betcha can't eat just one.'"
And he's right, of course. Tits are totally benign and unimposing. Even the really big ones – like those of T-cup Monique – have an unspoken gentleness about them. But it's Halloween, dammit, and I have a responsibility here. So I set off on a quest to find the most frightening boobs about, and soon found that I had to look no further than the truly terrifying tits of Rhiannon 48MMM.
Rhiannon is indeed one big, scary woman with big, scary tits. As much as I like boobs, this is definitely one pair of knockers I wouldn't want to bump into in a dark alley! Her friends Minka, Echo Valley and bodybuilder Dawn Whitham give me the willies as well (especially the multi-tattooed dominatrix Dawn, who likes to have her unfeasibly large clitoris jacked-off like a cock!)!
To be fair, there are some rather friendly-looking well-endowed women on Rhiannon's site as well, such as perennial favourite Sam Anderson and the lovely Heidi. And, truth be told, Rhiannon isn't really that scary either. As a former editor of D-cup magazine and associate editor for Gent, Rhiannon secured her place in big tits niche and even produces and directs her own fetish porn films under the "Sweet-N-Evil Videos" monicker. An avid vocalist and musician, she also composes the soundtracks for her own adult productions! Add acting skills to her CV as well, with Mistress Rhiannon featuring in many movies of the erotic / slasher / scream-queen video genre. All in all, a diverse, charismatic, intelligent and driven woman busting-out with personality as well as boobs.
But, this being Halloween and all, I wanted to focus on the scarier side of the on-line world of big breasts. How appropriate, then, that Rhiannon served as the original "Boob-O-Lantern" girl for the Anthony & Opie Road Shows from WNEW New York! It is in precisely that preternatural spirit I present an All Hallows' Eve handful of video galleries featuring macabre Mistress Rhiannon 48MMM and a few of her frightening friends from Rhiannon48MMM.com: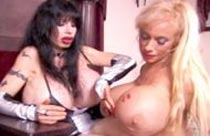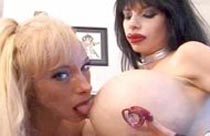 CLICK HERE TO VISIT RHIANNON 48MMM & FRIENDS AT RHIANNON48MMM.COM

(webmasters)
Share and Enjoy
→ Return to MyBoobSite for More Big Tits ←