'Twas two nights before Christmas when I posted my breaking news bulletin that Samantha 38G & 36JJ Maria Moore had made their first video together (and there was much rejoicing). It was the first time ever that Maria had appeared with another woman, an amazing event in and of itself, but the fact that the well-endowed woman in question was Sam just made it all the better! Although it was what I would categorise as semi-softcore in nature, there was enough G-cup & HH-cup breast measuring, boob jiggling & tit sucking to satisfy even this presently pussy obsessed individual who'd have preferred a bit of girl-on-girl lesbian hardcore action thrown into the mix (having seen Samantha in several such sordid Sapphic situations before).
Still, I was quite enamoured by this initial effort and, as the lovely Sam had so considerately pointed out on her website, this was but the first of many instalments featuring her & Ms. Moore together, the prospect of which made me shiver with antici… pation. Thinking that I'd allowed adequate time for Sam to post the next episode of the fun-loving dynamic dairy duo, I decided to make another visit this morning to see what had transpired. As is my habit with big tits porn sites, I checked out the photo galleries first (as I know I'll no doubt spend an eternity on the videos) and was treated to a photo series of the two frolicking playfully in bed together. Thus, I'll start off with just a few preview pics from said gallery starring sexy Samantha38G and (likewise sexy) 36JJ Maria Moore from SexySamantha38G.com…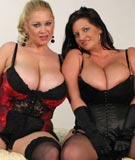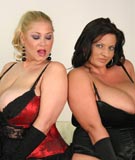 …and I can now say that I am glad to have viewed the photos first as, if I'd jumped right in to the videos, I would've been lost to the world for days on end (and, frankly, you're lucky to be even getting this blog!)! The reason? Well, to put it succinctly, my big boob dreams came true the moment I'd clicked on the videos link of Sam's site. She'd posted not one additional video series of her & Maria Moore since I'd last visited, but two – and a most amazing pair of updates they were!
I'd wished for big tits lesbian hardcore porn, and that's precisely what I got (so thank you, Sam & Maria, for granting my wish)!! The two new videos feature Samantha38G & Maria Moore in what I can only describe as a low-down & dirty lesbian love-fest. It starts out innocently enough, with some exceptional tit-sucking and close-up nipple-rubbing (presumably to catch us up from where we'd left off in the last episode), but all of this big tit-to-tit play seems to quickly get the better of our two gorgeous girls and things grow hot & horny from that point forward.
From the time Sam convinces Maria to peel off her panties (during which busty blonde succubus Sam openly admits to being an evil corruptor of women), it's hardcore all the way with Sam devilishly diving between Maria's legs and attaching her lips like a remora to Maria's pussy for an extended oral sex session of cunnilingus (and the ease with which she accepts Sam's eager tongue makes on wonder if Maria has had a girl go down on her before). Next, it's Sam's turn as Maria hovers her heavy hanging HH-cup breasts overhead as Sam adopts the doggy position for Maria to fuck her silly with a dildo (ah, can life get any better than this?).
To see these two luscious busty lesbians fucking & sucking & licking & eating each other out to ecstasy is well beyond what we mere mortals deserve. We are not worthy and words are not enough to convey my gratitude to goddesses Samantha Anderson & Maria Moore for fulfilling a fantasy I could never have conceived would ever become a reality. As it would have taken me forever to create a collection of video clips from my favourite moments in these most magnificent massive mammary movies, I've instead just chosen one brief scene from each of the two intensely erotic episodes which encapsulate the essence therein.
And so, it is with heretofore unimaginable pleasure that I once again present to you big boobs superstars Samantha 38G & Maria Moore in what has turned from a nice, friendly softcore girl-on-girl tit-to-tit romp into full-on hardcore lesbian fuck-fest courtesy of SexySamantha38g.com: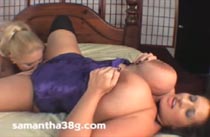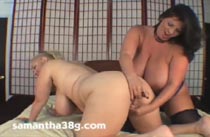 (note: actual videos on the site are 600×400 resolution)
CLICK HERE TO VISIT MARIA MOORE & SAMANTHA 38G AT SEXYSAMANTHA38G.COM

(webmasters)
Share and Enjoy
→ Return to MyBoobSite for More Big Tits ←