It's a girl's prerogative to change her mind and busty girls all the more (imho), but give me a well-endowed woman with big tits who's highly intelligent as well as a shrewd businesswoman in the big boobs biz and I'd say that such changey mindedness is well and truly warranted! I'm referring, of course, to the busty, super sexy and smart Samantha 38g of her eponymous personal Samantha38G site…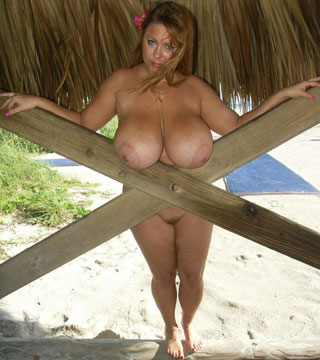 …but, before we get to the massive mammary mindset modification in question, I just wanted to take a moment to point out that, in her latest photo gallery, sexy Samantha 38g's got wood! Erm, under her tits, that is, and this has got me somewhat concerned. You see, it's no secret that I've got a big breast fetish for inframammary folds and, while I love wallowing my way under the curvaceous contours nestled beneath big boobs for both comfort and warmth, I'm worried that Sam might have splinters in her tits after seeing her huge boobs hanging heavy over wood beams as seen in a few of these preview photos from her new Cabana Cutie series at Samantha38G.com…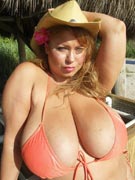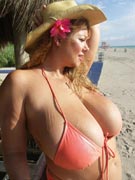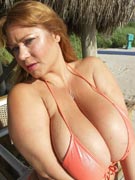 …right, then, on with the big boobs business at hand: Way back in an earlier Samantha38g blog on My BBW Site, one reader asked, "Did Sam do any anal stuff? Or will she?" To which Sam succintly replied, "No I do not do anal. I never ever do anything that causes me pain. I try to avoid physical pain as much as possible. Just like on a recent shoot they asked me to jump up and down, yah I laughed. Not happening, these boobs are heavy. I suggested we tie to 5 pound bar-bells on his chest and see how he liked it. I know huge real boobs bouncing up and down looks amazing, but not enough for me to be in actual pain."
Fair enough and, as one who doesn't do anal sex either, I can certainly empathise with her sexual position on this. From there, though, another reader questioned the voluptuous veracity of her statement saying, "Samantha38g – do you mean that you don't do anal any more? I'm referring to a clip on the BangBros Network." Both Sam and her webmaster confirmed this was wrong, with Sam further reiterating, "I have never done an anal scene. Nor am I. Guys it is called marketing." And, thus, the BangBros inflated butt fuck claim was rightly refuted for the "udder" balderdash and ballyhoo that is was.
However, and this is the woman's prerogative change-y mind-y bit, it seems that Sam has since re-evaluated her position on anal sex since the description for the latest video on her Samantha38g site reads…
Analicious!
October 4, 2010
FEATURING: Samantha 38G

I bet none of you saw this day coming! The luscious Samantha 38G finally has come around and is gonna go in on some hot anal action! That's right folks, ANAL! Our favorite BBW babe does a wonderful job of sucking cock and getting her tight pussy fucked before it goes down. Her huge natural rack of fat titties bounce up and down the the cock. Then the ass shot. Man! Samantha took it like the champ we all know she is and got her asshole fucked as she moaned in joy! Tons of fun here folks. Enjoy!
…and so it seems that our sultry, seductive and sensual Samantha 38G does do anal sex after all! Not only that, but this new video exclusive to her site represents a beautiful big boobs BBW breakthrough in that it's the first time Samantha 38G has done anal sex in porn ever!! Thus, if gives me great pleasure to bring this busty voluptuous and gorgeous G-cup goddess back to My Boob Site in her beautiful big butt fucking debut; I give you sexy ass fucking first time siren Samantha 38G doing anal in videos from Samantha38G.com: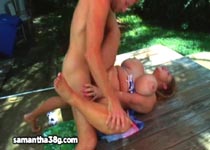 CLICK HERE TO VISIT SAMANTHA 38G GOING ANAL IN VIDEOS FROM SAMANTHA38G.COM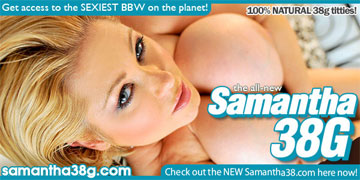 (webmasters)
Share and Enjoy
→ Return to MyBoobSite for More Big Tits ←