As it's been a few days since my sexy Sapphire softcore blog…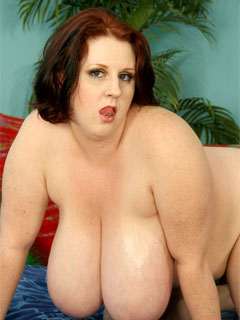 …I figured I might as well move on to the hardcore porn instalment of the series. We last left the lovely 38L Sapphire massaging her massive breasts with baby oil and masturbating doggy-style (her favourite wanking position!) with some lovely close-up video slips of her pretty plump pussy being fingered for our viewing pleasure.
This goes on for what seems like an eternity until, obviously attracted and aroused by her masturbation moans and the sexy, squishy sounds of solo sex as the slender fingers of her sweet hand plunder her pussy for whatever manner of moist twat treasures lie therein, some random and curiously naked man wanders in with a raging erection – his penis primed for some titanic tits titfucking action. He wanders up to a still sitting Sapphire masturbating her pink pussy and reaches down to fondle her glistening, oily nipples before stroking his hand up the luxurious length of one of her monster mammary glands as he leans in for a deep snog as she takes hold of his convenient cock and begins stroking his penis as they kiss.
The titanic titfuck temptation being abated by her wanking hand jacking off his erect cock with her slippery pussy juices, her penis pal dives between her thick thighs to offer the courtesy of cunnilingus on her big, wet cunt and commences licking her out to oral sex ecstasy. Sapphire then begins to squeeze her massive tits together creating a carnal canal for his cock within her colossal cleavage as he plunges his penis therein for a nice sloppy titfuck with Sapphire licking his dick head with every thrust. Seeing as she's already pretty much giving him a blowjob as the titfucking continues, cock boy dismounts her gargantuan globes and Sapphire kneels before him for some serious penis sucking in the phallic foreplay prelude to a fuck.
Loads of busty voluptuous fucking ensues with perfect plumper partner Sapphire getting shagged in a smorgasbord of sexual positions including her doggy style sex favourite (although I'd personally prefer cowgirl with her so I could feel those gigantic tits slapping my face as I fucked her pussy from below). Bit it's not just fucking for our coital couple as they seem to take an inordinate amount of big breast sex breaks for titfucks in between the plump pussy pounding hardcore action – the last one being a delicious blowjob / titfuck combo with Sapphire sucking his cock head until his impending ejaculation is fit to explode in oral orgasm. However, our well-blown boob fucking bloke pulls out his penis prior to cumming and gets the sublimely sensual Saph to sit on his cock reverse cowgirl style for one last hot girl-on-top fuck with her big boobs bouncing away all the while.
In the end, a well-fucked Sapphire hops off his knob and gets down on the floor, kindly requesting that he cum on her titties as he unleashes his copious cumshot onto her L-cup cleavage (oh, and I wish to thank her thoughtful penis partner for writing my initial in cum on her tits as well!) in these beautiful BBW big boobs titfuck videos and huge tits hardcore plumper sex photos that come courtesy of sexy 38L Sapphire at BBWDreams.com:
38L Sapphire Hardcore – L-cup Massive Breasts Titfuck Photos from BBWDreams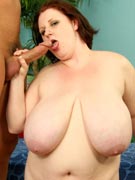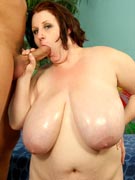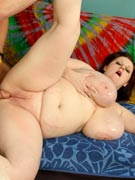 38L Sapphire Hardcore – L-cup Massive Breasts Titfuck Videos from BBWDreams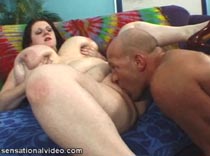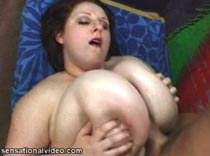 CLICK HERE TO VISIT 38L SAPPHIRE AT BBWDREAMS.COM

(webmasters)
Share and Enjoy
→ Return to MyBoobSite for More Big Tits ←