I shouldn't be surprised at the number of My Boob Site visitors who don't read my blog. After all, most of you big boob happy tit hounds just come here for the massive breasts on show and could care less what I have to say about boobs. Sure, I do have my dedicated readers who patiently endure my ramblings and occasionally even get involved by posting comments regarding what I've written (and I do treasure you all dearly), but these represent less than 2% of my boob blog's overall readership (or perhaps "visitorship" would be more accurate).
However do I know this? Well, I have this habit of including additional photos and video clips in my text to illustrate what I'm talking about, but these merely appear as in-line links amidst my massive mammary monologue with no thumbnail images to tell my non-reading just look at the tits pictures casual breast porn surfers, "Here's the boobs – click here!" Case in point, in my most recent Sapphire softcore blog when I'd mentioned there were 426 photos in the series, I added an aside saying some of them tend to get quite hardcore, with the "get quite hardcore" bit being linked to the following photo from Plumper Pass…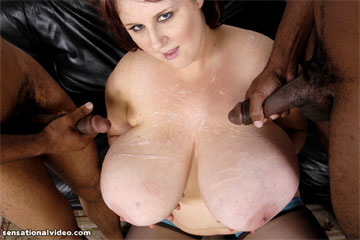 …and, of the 50,000+ unique visitors who've perused that particular Sapphire post thus far, less than a thousand big tits porn surfers have actually clicked through to see our lovely Sapphire's extra large L-cup boobs covered in cum from the two big black cocks jacking off on her gigantic juggs and thus alluding to the hardcore interracial threesome sex situation which transpires as this sexy breast sex series moves on. Alas, perhaps my inflated expectations of literacy in porn are too high and, if I really want people to actually read what I write, I should take up a career in literary erotica instead (still, I do expect I'd be rather hard-pressed to resist using in-line hardcore photo and video links as opto-erotic explanations of what I'm saying before someone asks a silly question like, "Erm, WTF is a tit-fucking spit-roast anyway?!" (and, of course, those who wish to conjure up their own hyper-erotic mental imagery could simply avoid clicking on the links)). Meh, who can say?
Anyway, since I've gone ahead and shown everyone the (apparently) "secret" photo of sexy 38L Sapphire looking sexually satisfied with two cocks cumming on her massive tits in the double cumshot climax of her super busty voluptuous BBW threesome orgy (not to mention that the more pornographically astute amongst you got a "bonus" titfuck video as well in a show of appreciation for your attention to something other than visible tits thumbs), I just wanted to pop in the boob blog today to say, for those of you who don't take a voluptuous venture over to My BBW Site very often, that I've just blogged big beautiful Sapphire's hardcore spitroasting titfuck threesome video & photo series therein: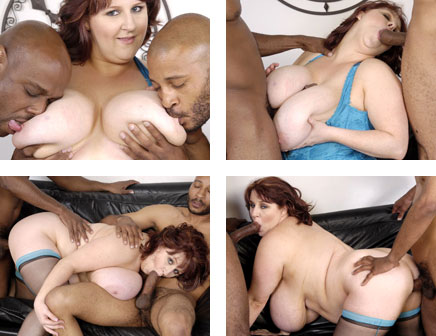 CLICK HERE TO VISIT 38L SAPPHIRE ON MYBBWSITE.COM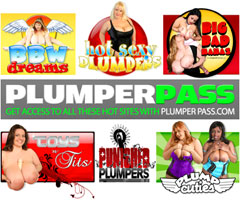 (webmasters)
Share and Enjoy
→ Return to MyBoobSite for More Big Tits ←