Floridian Vicky Soleil is a secretary in her day job. She must have a decent boss, as surely s/he's taken notice of those big 36F tits and maybe recognised Vicky from them in a photo or video.
Some employers can get proper sniffy when it comes to their employees getting naked on cam. Like we don't all use porn. Including management.
Of course, if the boss were to berate the sexy secretary for getting her kit off, then they would be admitting to watching porn, too. Kind of like if you were to see someone you know at a swinging club.
Who is going to tell? All you'd be doing was admitting you/they were there for a random fuck, too.
(Maybe I wouldn't be so keen if I had a male boss and I was at a greedy girls night, or a bukkake session though, if it were me.)
Vicky has swapped her secretarial stance for that of the filth mongers favourite… the naughty nurse.
This particular nursie having nice, big, round boobs with big, dark areolae and a colossal cleavage to get lost in.
She slips her stethoscope between her lady lumps and squeezes them together. Tit-fuck-tastic!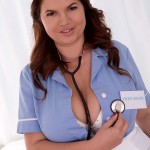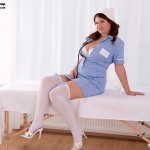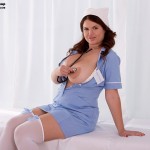 In a totally unrelated video, here, Vicky is off for a jog.
In possibly not the best outfit for a work-out, Vicky bounces down the street and her massive mammaries bounce straight out of her top.
Who'd have thunk it.
Click here to visit Vicky Soleil at Scoreland.com

Share and Enjoy
→ Return to MyBoobSite for More Big Tits ←