This is the first outing for chubby Lavina Dream, on MyBoobSite. She only began modelling last year (2012), so I guess we have a bit of an excuse for her absence.
38G Lavina is from Bucharest, Romania. She is 24 years old.
I have been having a problem with her name. I seem to want to write Lavinia instead of Lavina, having been unfamiliar with the name Lavina, totally.
It sounded to me like some form of the verb laver. Laver having several meanings, mainly based around water and washing. All of which appear to come from Old English, which in turn derives from Latin. In French, it means to wash as well. There is a seaweed called laver, too, again bringing in the water connotation and the origin of the Welsh cooked seaweed food called laverbread.
There are a load of other bullshit "meanings" available too. If you give a damn, look HERE.
Why am I bringing all this up? Well, Lavina is showing us how to wash a car. With those big breasts pressed against the bonnet and boot (hood & trunk, if you prefer).
What is it about soapy tits? Slippy and shiny with the soapy suds, Lavinia polishes her puppies like they need a good buff-up too.
She is utilising that long, girthy hose and its forceful, strong squirting stream to the best of her abilities. She is an expert at squeezing her huge knockers together and tempting a tit-fuck from the big, thick, schlong of a thing.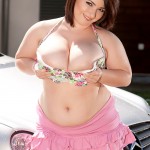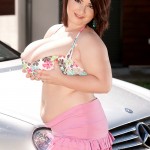 Click here to visit Lavina Dream at XLgirls.com

Share and Enjoy
→ Return to MyBoobSite for More Big Tits ←