Just a little favour for a fan today, as I'm at a loss with this one: I received an e-mail a while back from MyBoobSite visitor Larry, who'd said, "I'm a fan of your site and I know your very good at identifying big boob models. Could you help me find the name of this one and what other stuff she has done if any. She was recently featured on bigtitsroundasses.com, the name of her episode was The Tattoo Shop, but it does not say her name. She has a familiar face." Attached to Larry's e-mail was the following photo…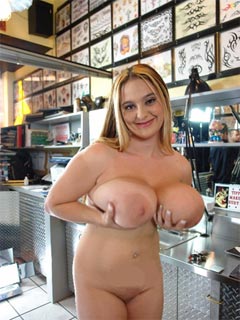 …unfortunately, I didn't recognise her (imagine that, a busty blonde babe who'd escaped my notice!), but I thought you all might be able to help. So I ventured over to BTRA to fetch more of this fetching young lass and found far more than her totally nude yet relatively innocent photo implied. Turns out she's a bit of a horny fucker, shagging the black gloved tattooist while the rest of the staff looks on (actually, they don't seem to be paying any attention to the hardcore action going down in their midst – eh, perhaps they get that a lot in their shop). For me, the most interesting part of this series – apart from the nice titfuck – was the thumbnail and matching vidcap wherein she lofts her left tit whilst fucking doggie-style which makes it appear as if she'd got three boobs, just like Eccentrica Gallumbits, the Triple-Breasted Whore of Eroticon Six (go on, take a look and tell me you don't see it, too!)!
Anyway, the point of this post was to help Larry ID the little blonde big-boobed fuck-bunny in question. And so, if any of you know who she is or have seen her before on any other sites, please leave a comment and let us know. Here she is from her tattoo shop series at BigTitsRoundAsses.com…
The Tattoo Shop photos from BigTitsRoundAsses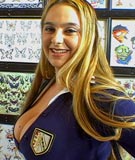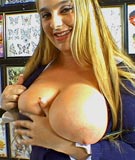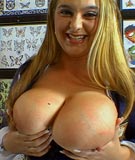 The Tattoo Shop photos from BigTitsRoundAsses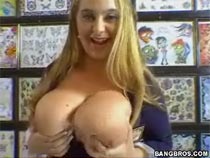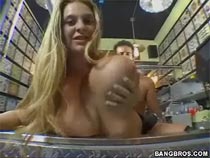 …while I was perusing the galleries of BTRA, I stumbled upon yet another busty model who caught my eye as well – a somewhat chunky chick with reasonably large breasts that served to further dispel my long-held yet inaccurate notion that the BangBros were biased toward skinny birds with only marginally big tits that fall below our F-cup & up standard. However, I cannot believe that they estimated this particular model at a 38L! L-cup?! C'mon now!! Obviously, they're unfamiliar with Sabrina Meloni.
Despite their ambitious overestimation of this blonde's bra size, I did rather enjoy her photos and videos. And, as horny fuckers go, this girl outdid the last one (though, granted, it's not quite as slutty as sex in public) – spreading her legs wide and masturbating on the couch before getting up on her hands and knees to carry on wanking whilst licking her dangling tits (I do like those occasional close-up pussy pics they throw in every once in a while), giving an awesome titfuck / blowjob combination through her captivating cleavage and then moving right along to some serious fucking, huge breasts flopping to and fro all the while.
And so, as an add-on to my Larry-inspired post today (and don't forget to leave a comment if you know anything about tattoo shop girl!), here's another anonymous busty blonde babe from BigTitsRoundAsses.com:
The Sun Shines on my Cock photos from BigTitsRoundAsses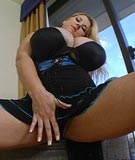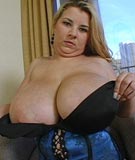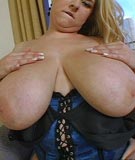 The Sun Shines on my Cock videos from BigTitsRoundAsses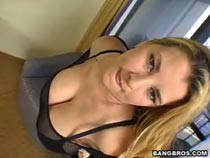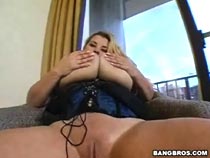 CLICK HERE TO VISIT BIGTITSROUNDASSES.COM

(webmasters)
Share and Enjoy
→ Return to MyBoobSite for More Big Tits ←