In my last blog of Taylor Stevens, when I was describing some of the trials and tribulations she'd been experiencing, I couldn't believe someone actually complained that there weren't enough topless pics! That particular post was mainly intended to let everyone know why Taylor had been away for a while, the photos & videos being but a bonus. I did feel a bit better, however, when I got Tay's own take on the matter: "I know that some of you guys come here for the boobies, and that's kewl and I love providing tons of boobage for you, and I totally understand that not every guy wants to get involved in a model's life..that's kewl with me and I love you just the same :)."
So, because Taylor is so generous with her H-cup endowments, I've decided to provide a supplemental post containing a handful of previews copped from the copious collection of video clips available in the complimentary webcam archives of her iFriends Fan Site – the difference this time being that they're all totally "tits out"! All of these videos come from Taylor's videochat sessions hosted on iFriends, wherein regular guys like you & me get to interact live with this lovely lass and make polite requests of what we'd like to see her do. And, to be sure, there are literally tons of these past performances posted therein ("literally", that is, if video files themselves had tangible weight).
My only real gripe with this whole videochat thing is how uncreative guys can be when playing "amateur director" with a model. Now, I'm not saying that Taylor's some sort of subservient chicken – far from it – but she does do her best to please her fans and fulfill their requests. But imagine how tedious it must be for her, night after night, to hear things like "squeeze your tits", "bounce up and down", "suck your nipples" and "titfuck a dildo whilst giving it a blowjob" (as if most of her punters would ever say "whilst"). C'mon, guys – you've got a beautiful, talented girl with a magnificent 40H rack at your disposal – get creative! Something like breast origami would be good: Slip an ordinary piece of paper into the cleavage, then a squeeze here and a jiggle there, and out comes a lovely swan! [Sorry, Tay] ;~)
But, whether or not you have any clever ideas to offer, it's still loads of fun to chat live with Taylor. Forget the fact that she's a stunning blonde with H-cup boobs (as if that would be possible!), because Taylor's friendliness, her bubbly personality and infectious smile alone make it all worthwhile. Of all the hundreds of busty videochat hosts that iFriends has to offer, Taylor Stevens is, and always will be, my personal favourite. Remember that the first month's membership in Taylor's iFriends Fan Club is free and grants you access to the extensive photo & video archive from which I cobbled these clips together. Subsequent months can be free, too, provided you spend enough time with Tay in live videochat (that's the bit you have to pay for!).
For now, just sit back and enjoy the following cavalcade of chat clips that I've assembled, lovingly entitled "Tits-Out with Taylor", courtesy of the stunning Ms. Stevens' iFriends Fan Club: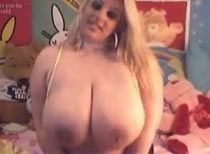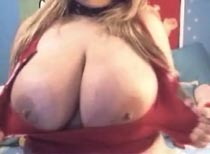 CLICK HERE TO VISIT THE TAYLOR STEVENS FAN CLUB
(webmasters and prospective chat hosts)
Share and Enjoy
→ Return to MyBoobSite for More Big Tits ←