I've heard tell we all have a dark side. Although mine rarely emerges to see the light of day, I can remember hitting the lowest point of my life about a decade ago when the depths of depression drove me to alternate between contemplating suicide and thoughts of eviscerating those whom I felt were responsible for my sad & sorry state. It was the latter that disturbed me the most, as I'm generally a kind & gentle sort or person who wouldn't hurt a fly, and would rather suffer myself than inflict harm upon another.
There's also the matter of mood swings that can bring out the worst in an individual. Whilst these are harder to perceive in one's self (imho), it's annoyingly easy to see in others (for example, having a boyfriend or girlfriend who's the picture of sweetness & light, all smiley & happy licking your dick (or clit) one moment, and then breaking your balls the next, as if they've got some inner monster emerging). Such momentary lapses in kindness can be easily forgiven, however, since we all have our good days and bad days.
But I'm not talking here about such circumstances and situations which seem beyond our conscious control. Rather, I'm referring to those who engage in abject acts of cruelty in pursuit of perverse sexual pleasure. Take gorgeous G-cup busty Jemstone who first appeared on My Boob Site over three years ago just having a little lesbian fun in a Sapphic celebration of Busty Britain's birthday, but it wasn't until she'd gone all busty redhead that I became totally captivated by her eyes. To me, she seemed a nice enough girl and a really good fuck – you know, the kind of slut you'd want to take home to mother – so I was ill prepared to find out just how serious her dark side could be when merely adding a "mistress" to prefix her name…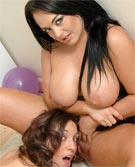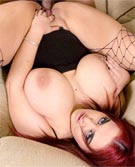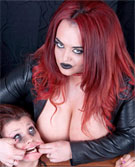 …sure, I know it's intended as a bit of fantasy sexual role-playing fun (i.e. "no busty pornstars were harmed during the filming of this movie") but I've just never been able to get my head around the whole BDSM scene. To my mind, sex is all about pleasure, not pain – enjoying each other's bodies and giving good orgasms – so I can't begin to imagine how the sadomasochism of sexual humiliation, genital torture and the rough side of bondage & discipline fit in. While I'm sexually submissive at the best of times, it's certainly not so in the traditional sub / dom sense of BDSM sex terminology.
I remember discussing this with a female fuck-buddy of ours a couple years ago. She'd just read "The Story of O" and, having been seriously turned on by its graphic depictions of dominance & submission, was totally up for some sexual experimentation in S&M role-play. I told her that, if it was me taking the dominant role, the most cruel & inhumane act of sexual abuse I could think of inflicting upon any true submissive was to be really nice to them! ;~P
It's probably just as well, really, since the only literary erotica that I've actually read on the topic was "120 Days of Sodom" by the Marquis de Sade (note to self: lend Jas the book and see if she's still interested in BDSM after that!) and, while all of the kinky Mistress Jemstone schtick involving "strap-ons, melted wax, gagging, restraints & cuffs, extreme pain, pissing, CBT (and she's not talking cognitive behavioural therapy there), foot & boot fetish, trampling, smoking fetish, BDSM and more" sound comparatively gentle in contrast to the adject horror to which I was subjected in said seminal text.
Still, whither it be physical or psychological in nature, the deliberate act of inflicting pain upon one's partner albeit in a playful sense is just not something I equate with sex or as being even mildly erotic in the least. So… why am I suffering my way through the MistressJemstone website today? Well, even though I find it's pornography objectionable due to the simulated sexual violence portrayed therein, I can't help but find dominatrix Jemstone sexier than ever (especially in her sex slave pic I used for the right thumb above)!
Meh, I suppose it's kinda like falling head over heels in love with a girl only to discover later that she's a total bitch but, by that time, you're so overcome with lust & obsession that there's no turning back and you can but try to see beyond the cruel & perverted depravity. That, or I'm just softening in my old age and growing numb in my aversion to fantasy role-playing in porn. Ah Pook forbid that I'd enjoy it (except in strange cases where pure fantasy is so far removed from reality that it represents an impossible fetish).
Ah, but that's just me and, if others find the sexually sadistic nature of BDSM porn arousing, that's fine by me, too (is just not my bag, baby)! And so, looking past the sadism & masochism herein (well, that'll be what I'm endeavoring to do), here's lovely Jemstone and her gorgeous G-cup breasts as alter ego evil Mistress Jemstone in photos & videos from MistressJemstone.com:
Mistress Jemstone photos from MistressJemstone.com













































Mistress Jemstone videos from MistressJemstone.com

























CLICK HERE TO VISIT MISTRESSJEMSTONE.COM

Share and Enjoy
→ Return to MyBoobSite for More Big Tits ←