There just nothing quite like a blowjob from a busty woman. Blowjobs by themselves are a thing of erotic wonderment, to be sure, but when big boobs enter the equation, they become so much more.
First, there's that amazing view that you get when your "oral administrator" goes down on you, her big tits dangling down into your lap, just begging to be squeezed.
Then, there's the profound potential that you'll get a tit-fuck in the process, plunging your penis through her cavernous cleavage as she presses her tits together for tightness, your cock already well-lubricated for breast-sex penetration from the slippery moistness of her warm mouth (and, if you're very well-endowed, the titfuck / blowjob can be combined into one for a boob-sex bonus that can't be beat!).
Finally, when you reach the peak of orgasmic ecstasy from all this frenzy of hypersexual stimulation, there's the unique challenge of covering her huge tits cum-pletely in cum.
And in the latest POV blowjob video from sexy Samantha 38G, you get all that and more! What more could there be, you ask? Well, once Sam's partner's erection erupts like a cumshot volcano all over her G-cup boobs, she lovingly rubs his cum-covered cock-head all over her erect nipples while it's still hypersensitive from an intense orgasm. Then, Sam slides his spend manhood between her soft, warm cleavage and proceeds to give it a breast massage.
Well, it's been a busy week and the weekend's shaping up to be even busier, but I couldn't bear to leave you without first giving you all a nice, sloppy blowjob – courtesy of SexySamantha38G.com, of course… ;~)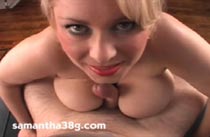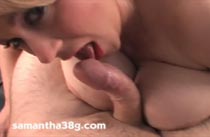 CLICK HERE FOR MORE OF 38G SAMANTHA AT SEXYSAMANTHA38G.COM

(webmasters)
…and if you, unlike myself, happen to have some free time, why not log in to the lovely Sam's ImLive Chatroom so she can seductively talk you through the perfect blowjob herself?! I'm sure she'd be more than happy to do so and, if you're nice, perhaps she'll even demonstrate her incomparable blowjob / titfuck techniques personally (mmmm – a virtual blowjob from Sam):
CLICK HERE TO VISIT SAMANTHA38G LIVE ON WEBCAM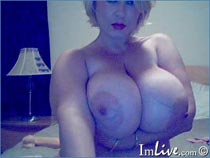 Share and Enjoy
→ Return to MyBoobSite for More Big Tits ←