A few weeks ago, I received a comment from a visitor identified only as "Taylor Fan", who wrote: "Reese, massive fan of your site, truly brilliant work. However you've often mentioned Taylor Stevens, and even said she was one of your favourites. So why no coverage? It has been too long I say, Taylor Stevens needs to revisit your blog, with some of her fine videos! p.s. There seem to be hardly any large pictures of her, any chance of showing any Reese?"
Those of you who've been with MyBoobSite since last year will remember Taylor Stevens from my "If Britney Spears had G-cup boobs…" blog (and, actually, they're H-cup tits – 40H to be precise – as Tay later informed me). She's indeed one of my favourites and has been absent from these pages for far too long (but with good reason, as I'll explain in a moment). As for large pictures, Taylor Fan, the only ones I've found so far are those I'd featured in my Score blog of Taylor (however, I will be sure to ask Taylor if she has any new hi-res shots that she'd like to share here).
It seems that Taylor's been having more than her share of troubles lately: She had been taking time out to care for her ill mother along with her brothers. Then, just as her mom was getting better, Taylor herself ended up in the hospital with what she describes as "one of the most painful things I have ever experienced in my life". After having blood work, ultrasounds and morphine for the pain, her doctors ultimately determined that Taylor was suffering from gallstones and gave her some medication for that. A week later, her doctor called her back to say that he'd also detected some problems with her kidneys, and requested that she return for a CAT-scan! She's still waiting for her appointment and has been quite worried, as the doctor refused to provide any details over the phone. The only silver lining at the moment is that her pain is only sporadic now, thanks to the medication.
But that's not all, oh no! Taylor was getting into her car the other day to visit her mother when the temperature light started flashing. When she took it in to her mechanic, he discovered that the head gasket had cracked and all of the fluids mixed together in the engine and all the reservoirs. The upshot? She had to replace the engine (and part with beau coup bucks). Then to top everything off, one of Taylor's best friends lost his grandmother – the woman who had brought him up. Attending her wake and funeral took its toll on Taylor, as death has been a constant issue on her mind ever since her mother became ill. Taylor said that the biggest bright spot during this dark time has been her fans, who've showered her with well-wishes and support, and she really doesn't know what she'd do without all of you there for her.
Phew! Poor Tay. :~(
You know, I think this is the longest I've gone on on MyBoobSite without actually mentioning boobs! Still, I thought you deserved the full explanation for her absence from these pages. The good news is that she's planning to get back on-line this coming week and spending time with her fans via webcam to help take her mind off everything that's been going on. If you'd like to have a chat with Taylor, you can do so via her iFriends Fan Club. It's free to join, and you'll get access to her personal photo & video archive at no charge (if you decide to enter "live chat mode", though, that's when you have to pay). Granted, Taylor's just one of the hundreds of busty women available for live videochat over at iFriends, but it's safe to say that she's our favourite (as well as the one whom I think looks best in a tube-top!)… ;~)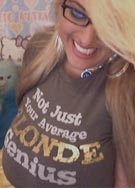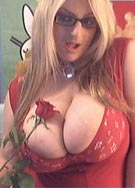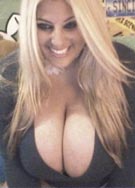 …oh, and here are a few video clips from the very beginning of one of Taylor's live videochat sessions over at iFriends. As much as I feel for what she's going through right now, she could have at least sent me the full video so I could see what happened after she took her bra off. Oh well, I guess it's just all the more incentive to go check out her extensive photo & video archive at Taylor's free iFriends fan site: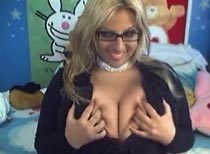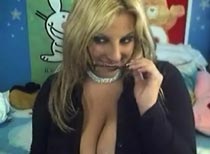 [ Remember: Membership to Taylor Stevens' iFriends Fan Club is totally free, along with all of the photos & videos in her archive; but, if you enter live video chat with Taylor, you'll be charged. Of course, if you do decide to spend some money and do a live video chat with Taylor, you'll get the bonus of a warm, fuzzy feeling, knowing that you're helping to pay for her new car engine and medical expenses! :~) ]
CLICK HERE TO VISIT THE TAYLOR STEVENS FAN CLUB
P.S. Oops, I almost forgot: I'd also wanted to share a cute little avatar-sized animated .gif of Taylor's boobs jiggling out of her top that a friend had made from a few seconds of one of her webcam sessions! So, here you go.
(webmasters and prospective chat hosts)
Share and Enjoy
→ Return to MyBoobSite for More Big Tits ←