Sadly, most of my favourite big boobs porn sites have been terribly slow at providing updates as of late, the sole exception being Plumper Pass who have been consistently serving up new busty BBW photos & videos on a daily basis. And so, rather than simply not blogging at all – bereft of big breasts as I am – I thought I'd do something a bit whimsical today which might best be classified under the big boobs bizarre category.
As some of you know, I've been getting into hermaphrodite fantasy porn of late with some of the biggest penises I've ever encountered rather than my usual fare of beautiful busty shemales. But what about some bizarre breasts instead? Well, when I opened my e-mail from BangBros today asking me to promote their new Muffia reality porn megasite which includes Cum Fu, Footvile, It's Real, King Dog, Kristin's Life, Manuel Uncut, Molly's Life, My Sexy Life, Naked Movie & Porn Stars Lick all under one roof, I was surprised upon glancing over their photo & video galleries to see this beautiful blonde girl lifting her shirt and flashing her tits – all three of them!
This curiously endowed three breasted babe with one extra tit and no superfluous nipple posed some minor sexual issues for me such as where would you stick your dick for a titfuck unless you suffered from diphallic terata and thus truly needed such double cleavage to sate your breast sex desires? I suppose having a busty girl with three boobs would be a bit of a novelty at first what with showing her off to your mates in a crop top so provide a prick teasing glimpse of her three tits dangling invitingly below – but finding triple-cupped bras let alone fashionable bikini tops would soon prove a major multiple mammary annoyance.
Then again, perhaps her multiple breasts were caused by a badly botched boob job but, whatever the case, the lovely Taylor Chanel is truly a cute little multi-boobed oddity. And so, I'm apprehensively pleased to present the girl with three breasts – extra well-endowed triple-breasted busty blonde Taylor Channel and her three tits, triple nipples and two sets of cleavage in hardcore photos & videos (it is rather amusing how her fuck-buddy balances himself on her middle boob whilst she takes care of fondling her other two tits) that come courtesy of from Muffia.com:
Triple-breasted blonde Taylor Chanel photos from Muffia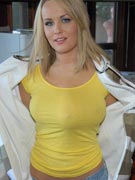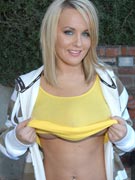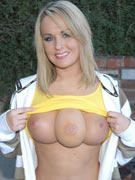 Triple-breasted blonde Taylor Chanel videos from Muffia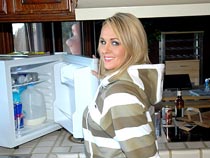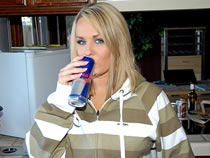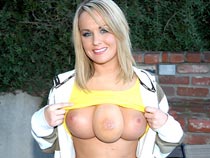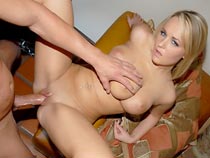 CLICK HERE TO VISIT TRIPLE-BREASTED BLONDE TAYLOR CHANEL AT MUFFIA.COM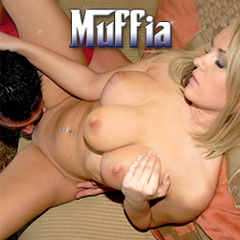 Share and Enjoy
→ Return to MyBoobSite for More Big Tits ←