Since my last XX-Cel blog, Cel's got himself (oh, and XX-Cel members too, of course) a nice new pair of massive tits which boob fetish fans of visible veins on breasts will surely appreciate. Indeed, what big breast aficionado would be able to resist the huge tits temptation of tracing their fingers over the milky white translucent flesh barely concealing the sexy blue veins on boobs of HH-cup proportions stretching across her tits like an erotic roadmap to guide us down her ample chest to her nipples perched pendulous upon the saucer-like large areolas below?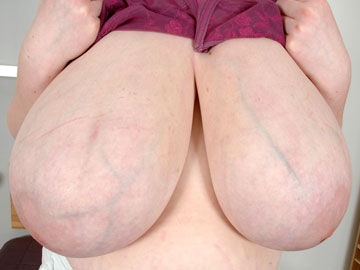 Big Veiny Breasts courtesy of XX-Cel
The lovely veiny big boobs belong to beautiful busty voluptuous 38HH Venus whose much anticipated arrival at XX-Cel was hearalded with this tit squeezing teaser Cel had shared a month prior to her debut there. But veinous vixen Venus is no stranger to MyBoobSite, with me previously having introduced voluptuous Venus at Divine Breasts just over six months ago. However, the DB version of Venus leaves a little too much to the imagination (imho), as all the shots are topless only and I prefer having my well-endowed women nude so as to appreciate every last intimate and erotic nuance of the sensual female anatomy.
So leave it to Cel to come through for me again (as he had done in the past with the luscious lower lips of Angela) by providing a fully nude Venus exposing all of her curvaceous charms to the camera! The full body nude of Venus laying naked in bed with her plump pussy in the foreground offset only by the "uddely" massive breasts pancaking to her sides toward the back is my personal favourite, but I'll give you a small yet sexy selection from the series so you can choose for yourself. And so, here's the beautiful 38HH busty voluptuous Venus baring more than her boobs for the first time in fully nude photos from XX-Cel.com: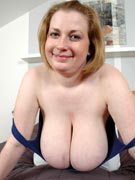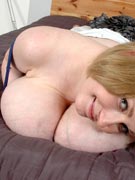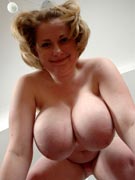 CLICK HERE TO VISIT 38H VENUS AT XX-CEL.COM

Share and Enjoy
→ Return to MyBoobSite for More Big Tits ←