Ever since my look but don't touch blog, I've been making a concerted effort to alter my attitude toward this beautiful mega-busty babe. As a first step in my intensive behaviour modification regimen, I joined her website…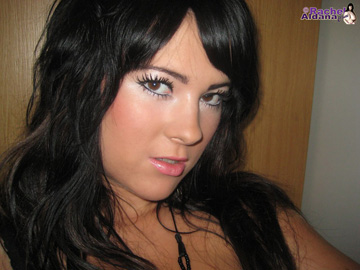 …having now spent some considerable time there looking over her pics and reading her personal diary, I came to the conclusion that she's still a bit shy over all of the attention she receives as a consequence her extremely ample assets and is just now getting to grips with coming out of her shell. In this respect, she reminds me of a beautiful young female friend whom I love dearly that, although I'd shag her in an instant if that's what she really wanted, it's moreso a matter of me valuing the friendship that we share.
Granted, my definition of friendship is somewhat open-ended. For example, there was this one weekend when we'd been partying with a group of our mutual friends that included the lovely young lady mentioned above. Having driven a long way to attend, Vix & I retired to our hotel room shortly after midnight (old party poopers that we are) and were fast asleep within moments. Then, at 3am, we were awakened by a knock at our door. 'Twas the gorgeous girl in question who'd come to ask, since she was experiencing some "difficulties" in her own room, if she could spend the night in ours instead.
Although we were both knackered and naked, we sat up and politely listened to her as she sat on the foot of our bed relating her tale of woe with sympathetic ears. When she'd finished, we invited her to join us as there was no additional bedding in the room. She stripped off her clothes and crawled in nude between us facing Vix so, naturally, I asked if she wanted a cuddle. Upon receiving a reply in the affirmative, I spooned up behind her and wrapped one arm around her small yet delightfully voluptuous body, kissing her gently on the back of the head as I did so. As one might expect, this resulted in a raging erection to which my little cuddle-buddy reacted by wriggling her beautiful bare bum even tighter against me, settling in for the night.
And, quite frankly, this is how I've come to think of Rachel Aldana – more like a cuddle-buddy than a potential sex partner. While I'd have no active intention to fuck her, the thought of the two of us spooning together in similar fashion with my forearm happily buried in K-cup cleavage is, I'll admit, quite the appealing prospect (especially after having seen this photo!). And so, in recognition of my growing appreciation of this one in a million busty babe, here are a few sample photos from her most recent series in & out of her coral top & K-cup bra courtesy of her very own RachelAldana.com…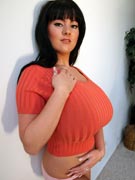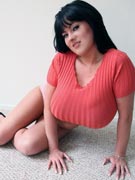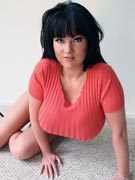 (note: actual photos available for download average 2000×3000 resolution)
…and, while I'm on the topic of her titanic tits, I should also mention that Rachel's done another webcam video for us – this time fresh out of the bath with a refreshingly natural girl-next-door look about her. Once again, here's 32K Rachel Aldana in one of her private videos from RachelAldana.com: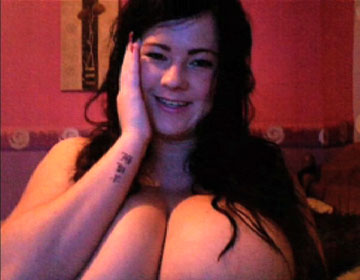 CLICK HERE TO VISIT 32K RACHEL ALDANA AT RACHELALDANA.COM

Share and Enjoy
→ Return to MyBoobSite for More Big Tits ←