Dearest readers, I am troubled. Whilst I was away this weekend, an e-mail arrived from a lovely young girl expressing an interest in starting her own website and asking for my assistance. She'd enclosed a few naked photos as well which proved her to be a truly stunning vixen in most every respect. Trouble was, she was only an E-cup – a most unfortunate circumstance considering MyBoobSite's "F-cup & Up" standards.
This left me torn, as those who know me are aware that I'm a major advocate of any well-endowed woman willing to get her boobs out on t'internet and am always eager to lend a helping hand. However, her sub-F cup-size would seriously restrict the promotional possibilities I could afford her.
So what am I to do? Granted, a vast majority of the general populace considers anyone who's a D-cup or larger as having big tits, but I'm also aware that this sentiment is not necessarily the same amongst big breast lovers and especially the readers of this blog. I hate to turn her down, though, as I don't want to discourage her from pursuing a topless career and any negative feedback at this early stage could be devastating to someone just having made what I consider to be such a brave decision.
Any suggestions that don't involve me starting a blog for lesser-endowed girls (as I simply haven't got the time at present)? Unfortunately, I can't provide you with any sample shots of this luscious lady, but I can provide you with a few examples of the cup-size in question. Thus, I'm going to break the rules for a bit and give you a handful of E-cup models to ponder in case it inspires any ideas. Here's Micha (who's got some fab flaps going on, btw), Vanessa & Maria Nilsson from MC-Nudes.com: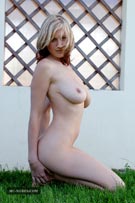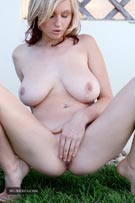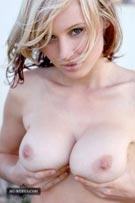 CLICK HERE TO VISIT MC-NUDES.COM

(webmasters)
Share and Enjoy
→ Return to MyBoobSite for More Big Tits ←