Alabama girl Rockell (AKA Raquel Stoops / Raquel Starbux / Rockell Starbux) is 24 years old.
A beautiful blonde babe, Rockell is blessed with big bouncy boobs and a slightly chubby figure that I am informed measures 43-28-38.
She is quoted as being a 36G (yep, G-cup again) but doing the sums between her band size and her bust measurement, I make her an F-cup. I think whoever measures the girls these days seem to forget to add DD and go straight from D to E.
I'd be a G-cup, if I counted like this. And I don't so I know I am an F-cup. That's also what it says on the label on my bra.
Interviewed by Scoreland about her tits and nipples, Rockell lets us know how she likes to be sucked and teased:
How should a man treat Rockell's nipples?
Rockell: Well, I like them to be sucked on and I like them to be played with. I guess I like them to be teased. Just give them 100% attention and you're good to go.

You're okay with biting?
Rockell: Yeah. You can a little bit, not too hard. They're sensitive.

What about nipple clamps?
Rockell: I have used nipple clamps. I like them. They're not like my favorite, but they're okay.

So your favorites would be mouth and hands?
Rockell: Definitely… if the guy knows how to work his hands and mouth, right.

Speaking of the girls, do you have a name for them?
Rockell: I named them Attention Whores. They have a mind of their own.
Rockell is showing us her sexy Southern sultriness, and strips down from her cowgirl style shirt and shorts leaving on her cowboy hat and boots, while she masturbates in the barn.
Randy Rockell stuffs her fingers into her pussy and, quite violently, thumps her hand against her cunt to bring herself off.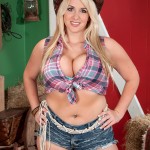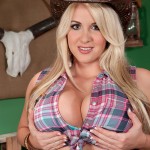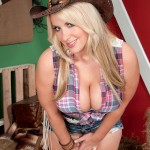 Click here to visit Rockell at Scoreland.com

Share and Enjoy
→ Return to MyBoobSite for More Big Tits ←