I get a lot of interesting letters from big boob lovers but, by far, one of the most curious to date comes from my breast mate Gary B with respect to big tits super busty blonde bombshell Abbi Secraa of former Nelli Roono fame…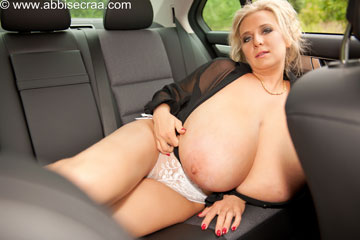 …his epic epistle of an e-mail began simply, "Dear Reese, This may be the weirdest email you've ever received. I'm writing about a blonde, big-busted model of whom you are clearly a fan, Abbi Secraa (formerly known as Nelli Roono). It's about her name. I was as surprised as anyone when she changed her modelling name to Abbi Secraa and many of her fans may been left scratching their heads as to what if anything that name meant or where it came from."
From there, it descended into a most studious and scholarly account of the name Abbi Secraa's potential origins, replete with countless references to translations and transliterations of ancient manuscripts from Talmudic and scriptural sources alike. I'll not share all the details and specifics, since some of it was quite controversial and may lead certain sects to believe there may be some sort of big boobs conspiracy afoot. However, suffice it to say that it all comes down to one not so esoteric reference to the Babylonian Talmud (Gittin, 56A).
"But what the hell does any of it have to do with a huge-breasted blonde from Poland?" Gary asked, as if such should be a rhetorical question by now (although I'm guessing large natural breast fetish fans without said text to hand are now wondering the same thing themselves). Well, as luck would have it, there's an ancient character from the Jewish War called "Abba Sikra" (or "Abba the Zealot") therein, leading us to wonder whether Abbi might have chosen her name deliberately to reflect some historical heritage as a rare Polish Jew (which, if so (especially considering Sikra stems from the "Sicarii" or "Dagger-men", as derived from their Latin root "sika"), would make for a nice revolutionary statement as well!).
So, is this gigantic tits theory correct, or is the curious connection between Abba Sikra & Abbi Secraa just some sort of "udderly" amazing coincidence? Of course, only our most sexy and super busty blonde beauty herself could say for sure. As for the rest of you, I'm sure that you share in huge hooters historian Gary's closing sentiments when he said, "And now we can get back to talking about what really matters about Abbi: her gargantuan tits." And so we shall.
Thus, eschewing the erudite and educational nature of our resident expert's huge boobs hypothesis for a moment to move her massive mammaries on to something more erotic, with big tits tied up in a sheer see-through shirt to totally topless in a "get out of my dreams and into my car" porn sort of way, here's magnificent macromastia maiden Abbi Secraa from AbbiSecraa.com: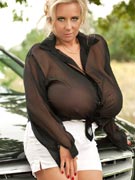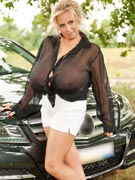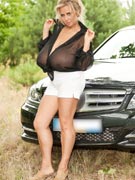 (note: full-sized photos available for .zip download from her site are 6048×4032 resolution)
CLICK HERE TO VISIT ABBI SECRAA NEE NELLI ROONO AT ABBISECRAA.COM

Share and Enjoy
→ Return to MyBoobSite for More Big Tits ←