Remember back when I caught 36JJ Alicia Loren's sexy alter ego Simpatique red-handed drinking beer live on webcam?…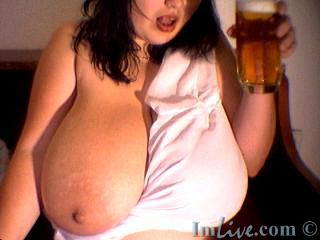 …positively shocking, it was! I'd always thought her to be such a sweet and innocent girl, despite the fact that she habitually bares her JJ-cup breasts in order to satisfy us big boob lovers. But I suppose the world of webcamming is quite different than the formal environment of a photo shoot as a model. Not only are you in the secure comfort of your own home, but you also have fans and admirers chatting with you live, encouraging you to go ever further in fulfilling their fantasies.
Well, in a recent visit to Alicia's webcam site I discovered two more "shockers" in which we witness the lovely Ms. Loren engaging in two even more deviant behaviours! The first was that she'd gone blonde for a session (yes, going blonde is a deviant behaviour – just ask my wife)! Granted, it's no doubt just a blonde wig, but a shocker nonetheless. The second shock was seeing Alicia giving a titfuck and a blowjob to a prosthetic penis! Indeed, having witnessed Alicia sucking cock – regardless that it was but a faux phallus – my world will never be the same.
But ignore my tongue-in-cheek rant feigning mock disapproval over her illicit actions. Actually, I'm quite pleased to see Alicia losing her inhibitions and getting more adventuresome. Who knows if she'll ever do the same in her professional modelling, but it's nice to see that once her webcam comes on, she lets go and shows a side of herself that we'd probably never get to see otherwise. So here's 36JJ Alicia Loren (aka Simpatique) as you've never seen her before at ImLive.com…


CLICK HERE TO VISIT ALICIA LOREN 36JJ aka SIMPATIQUE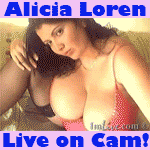 More Live Boob-Cams from ImLive.com
(webmasters)
…but that's just what Alicia gets up to in her spare time (I was going to say "when no one's watching", but that would've been wholly inaccurate, wouldn't it?). Then again, I guess that in real life, Alicia does pretty much the same thing – albeit sans blonde hair and blowjobs – showing off her huge boobs for our ultimate sensual edification. Nice work, if you can get it – and, for someone with such stunning looks and beautiful breasts as Alicia's, it's a given that her job security is ensured.
I was over at Divine Breasts the other day and encountered a series I don't believe I've ever shown here before. In it, Alicia was lounging around in this amazing mesh top with holes so big that her nipples stuck through whilst the buttons strained to contain the massive breasts within. However, it was the fifth photo after she undoes the top to reveal her plunging cleavage that prompted me to feature these today. Thus, here's 36JJ Alicia Loren once again, this time at DivineBreasts.com…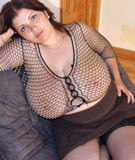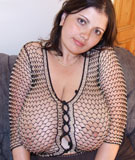 (note: actual photos downloadable from the site are 1024×768 resolution)
…but, before I wander off for the weekend, I thought I'd leave you with some clips from Alicia's latest videos – an intimate affair wherein she gets up-close and personal with the camera – massaging, jiggling and licking her huge breasts, biting and sucking her nipples, and most amusingly, since it's something we've all no doubt dreamed about doing ourselves, burying her face in her own cleavage and waggling her head side to side (ah, that's be heavenly!). And so, I bid you adieu for the weekend with this parting gift of 36JJ Alicia Loren videos courtesy of DivineBreasts.com: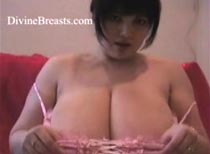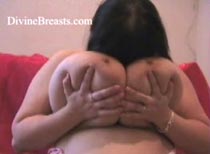 CLICK HERE TO VISIT 36JJ ALICIA LOREN AT DIVINEBREASTS.COM

(webmasters)
Share and Enjoy
→ Return to MyBoobSite for More Big Tits ←