When I see a sexy girl with massive tits swimming topless in a pool, my most perverted fantasies turn toward physics, as nothing aids the study of large breast fluid dynamics than submerging tits in a viscous liquid since it allows you to observe big boobs in slow motion without having to seriously fuck with the space-time continuum. Thus far, the biggest breasts I've ever seen displacing water on My Boob Site were those magnificent murky swamp monster tits of L-cup Sabrina Meloni in my Attack of the Water-Mellons video blog oh so many moons ago, so I decided maybe some bigger boobs would be better this time 'round. To that end, enter the udder-ly enormous NN-cup breasts of pendulous pretty Anorei Collins (seen here preparing to take a topless plunge in the pool, setting her massive mammaries in motion for the tits aquatic Anorei Collins videos which we'll be getting to a little later on below)…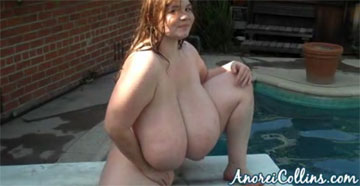 …having never witnessed such an exceptionally well-endowed woman with wet tits in the water, my mammary gland giddy mind couldn't help but wonder how the extreme buoyancy of her big boobs bouncing in stroke after stroke might affect her swimming ability or, for that matter, if massive breasts could be used as flotation devices in an emergency situation (invariably, mental images of being lost as sea stranded on a super stacked rack raft of big tits floating to safety soon followed). My massive mammary musings waxed considerably more tits scientific from there as I began to imagine what colossal cleavage equations might be involved in mathematically modelling the impact of adorable Anorei's busty voluptuous breast viscosity against the water displacement her tits would effect as those super-sized boobs broke its surface tension. But, alas, not being bothered enough to code some computational fluid dynamics software and not wanting to blow my brain before this boob blog was complete, it seemed a more sensible solution to simply watch the video instead (not to mention editing together a few short preview clips to share her tits with the big breast loving world at large), and so I did. Thus, causing tiny tidal waves with titanic tits swinging from side to side (oh, and don't'cha just love that sexy big ass side-boob shot in the last thumbnail wherein the optical illusion effected by the increased refraction index of water makes it look almost as if one of her gigantic tits is swimming out ahead of her?), here's stunningly beautiful, 40NN busty Anorei Collins swimming topless in videos at AnoreiCollins.com: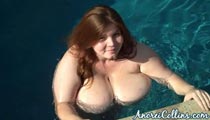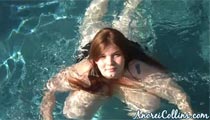 CLICK HERE TO VISIT 40NN ANOREI COLLINS AT ANOREICOLLINS.COM

(webmasters)
P.S. Oh, could someone let me know if my new video format is working on mobile devices? Just trying my best to make MyBoobSite a bit more compatible with everyone, so mobile content comments most welcome!
Share and Enjoy
→ Return to MyBoobSite for More Big Tits ←