I need to get a t-shirt with I Love Sluts emblazoned upon it, as my lust for promiscuous girls grows greater by the day. Having recently reacquainted myself with my first sexy slut girlfriend who oft been referred to as a whore slut and cum dumpster by the self-same disrespectful guys who'd enjoyed the profoundly penetrable pleasure of fucking her pussy and now living with my deliciously slutty wife over whom I am so sexually obsessed that I was inspired to write the first love poem of my life in her honour does nothing but fuel my passion for promiscuous women all the more. Nonetheless, despite being happy with what I've got at home, that doesn't stop me from the lewd and lascivious vigilance of always being on the lookout for busty sluts upon whom to lavish my attentions, the most recent one being a voluptuous busty blonde beauty with massive tits of soft, milky breast flesh surrounding her large areolas and a cum-hungry pussy who loves nothing more than having all of her holes filled with cock at every opportunity…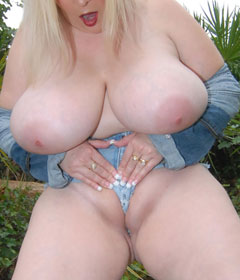 …her name is Jenny Seemore from the aptly-named Come Depot website and her horny disposition, huge HH-cup breasts and voluminous vagina have successfully supplanted super slut Kelly Madison to capture the 2nd place position in my personal slut lover's toplist (after all, the only guy Kelly fucks any more is her husband even though she does share him with other girls in threesome sex situations). Ah, but first I should let you in on the sexy story which led to my serendipitous discovery of this new beautiful busty super slut supreme of my fetish fantasies' wet dreams:
Well, those of you familiar with my pussy cream pie fetish will be well aware that the one thing I don't like about sex is cumming simply because this represents an "end of sports" in most cases. Sure, I like cumming as much as the next guy (or girl), but much prefer the foreplay beforehand and the fucking prior to orgasm. Lately, though, I've been beset by sexual fantasies involving creative things to do after I've cum, and my biggest orgasm fantasy fetish of late is post-coital pussy creampie consumption and, much to my profound pleasure, my lovely wife obliged me in my cum eating fetish the very day after I'd told her about it!
We had been lying naked in bed when she got up with her "fancy a fuck?" face grinning sexily in my general direction. I got out from beneath the covers and she mounted me instantly for cowgirl style sex, wasting no time fucking me silly and suppressing her own orgasm. Taking hold of her big boobs bouncing above me as she drove her pussy like a pile-driver over my cock repeatedly. The feel of her soft breast flesh yielding beneath my fondling fingers combined with the hopelessly horny sight of my penis disappearing in her pussy each time her moist meat flaps embraced my erection giving way to a downward thrust of her slippery sexual sheath sucking my cock back inside her cunt was all it took do get me exploding in orgasm within mere minutes of first penetration.
After I'd cum, I just laid there sexually spent and totally transfixed whilst my freshly fucked wife scooted forward on her knees, straddling my face and hovering hornily above me with her cum filled cunt creampie ready to deliver squirting semen into my open mouth with her big boobs jiggling away in the periphery framed in the flowing golden locks of her long blonde hair as she reached both hands between her legs to take hold of her sperm laden labia lips in pussy spreading position. It only took one hard squeeze of her tightly toned pelvic floor muscles to trigger the strong vaginal contraction required to get her pussy squirting cum in my mouth after which I eagerly licked her labia clean and pressed my own lips against her saliva slathered cunt flaps to suck the remainder of my cumshot from her vagina as she came hard ejaculating more of my own semen into my mouth ('twas one of my bigger cumshots since I don't think I'd had sex for a week prior to her jacking off my penis with her pussy).
I could feel the freshly ejaculated puddle of cum pooling in my throat as my tongue recognised the familiar taste of my own semen from back in my horny teens when my alarmingly frequent autofellatio mouth masturbation habits invariably came to a sticky cum swallowing conclusion. Ever since that erotic experience in eating out her cummy cunt in post-fuck creampie cunnilingus until she ejaculated the remains of my coital load into the gaping cum hungry pie hole provided, I've searched in erotic earnest for an example of this internal cumshot pussy squirting cum eating cunnilingus feeding fetish on-line only to come up dry (as it were).
Then, finally, just as we were getting ready to leave for a swingers' party on the coast (and, fuck, my thighs are still sore from kneeling behind my naked wife as she bounced above a new-found boning buddy holding still from her humping just long enough so I could add my penis to the fucking cock already occupying her inviting vagina as it arose in double vaginal penetration position before me), my first person sloppy seconds pussy eating fetish found fruit in the form of a deliciously dirty video clip Jenny had posted on her website wherein she fucks her husband reverse cowgirl style and then forces him to swallow his own cumshot from her sperm gushing cunt in the cunnilingus cum feeding conclusion of this most amazing sex video!
Thus, those of you who feel cum swapping is a perverted and sick sex act should turn away now, as I feel my prosaic ponderings rapidly drawing to a close. Those with an open mind, however, prepare to fall in love with my new second favourite super sex slut of all time in these extremely hot forced female to male cum swapping videos "cumming" with loving lustful courtesy from sensually seductive, sublimely beautiful and wondrously well-endowed 36HH sexy cum slut wife Jenny Seemore from ComeDepot.com:
Pussy creampie forced cum feeding videos from ComeDepot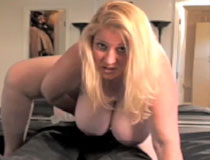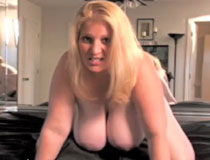 CLICK HERE TO VISIT 36HH JENNY SEEMORE AT COMEDEPOT.COM

Share and Enjoy
→ Return to MyBoobSite for More Big Tits ←