I get so many spam e-mails every day offering various pills, creams and herbal remedies through which I can enlarge my breasts naturally without surgery. Now, as much as I whole-heartedly support any scientific advancement which can genuinely make big tits even bigger, most all of these are utter bollox. Besides, being a man, I would personally prefer that said breast enlargement occurred on someone other than myself (whereas Vix typically gets spam promising to give her a bigger penis, but that's another story altogether).
The most recent breast enlargement tip I received via e-mail, however, was totally legitimate. It started out with the usual hype – "Feeling a little shy by your lack of cleavage? Nervous that your man will be disappointed? Again, Mother Nature comes to the rescue!" – but, seeing as it was part of a Google news feed in an article entitled Breasts – Ten Facts You May Not Know About, I read on. The long and short of it was that, if you want bigger tits, all you have to do is have sex because, apparently, the breasts swell up to 25% during sexual arousal! [The article went on to say that the inside of the nose swells during sex as well, but I should probably reserve that tid-bit of trivia for MyNostrilSite.]
This naturally got me thinking about porn (then again, what doesn't?). If breasts do indeed expand whilst engaged in sexual intercourse (thus casting the phrase "big fucking tits" in a whole new light), then models who wish to maximise their mammary assets need only to go into hardcore porn to put on a couple of cup sizes and, ephemeral though it may be, it would look terrific in their photos & videos! Ah, isn't anatomy wonderful?
So, in celebration of the wonders of nature and the female body, here's the lovely Angelica Sin fucking her way to bigger tits at MomsACheater.com…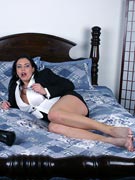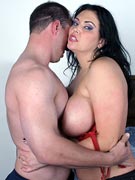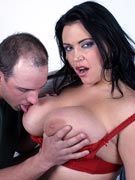 CLICK HERE FOR MORE OF ANGELICA SIN AT MOMSACHEATER.COM
…ah, doesn't Angelica just have the loveliest smile in those photos? Of course, she's no doubt laying there thinking, "Wow! Not only am I having sex, but my tits are getting bigger in the process!! How cool is that?!" Thus, because of the fun factor involved, it's no wonder that this new fucking breast enlargement scheme has caught on like wildfire. As witness to the profound popularity of this pendulous pectoral plumping phenomenon, here's Angelica Sin and a few more already busty models pumping away to make their big tits even bigger in hardcore videos from MomsACheater.com: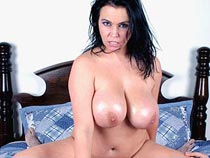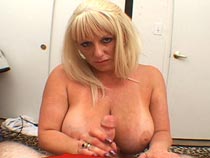 CLICK HERE TO VISIT MOMSACHEATER AT INCREDIBLEPASS.COM

(webmasters)
Share and Enjoy
→ Return to MyBoobSite for More Big Tits ←