Writing for MyBoobSite as I do, I tend to receive an awful lot of topless and nude photos from busty girls who wish to break into the big boobs modelling market. Jaded as I am from having so many big tits pass my way from day to day, I occasionally fear that I'm not giving all of these well-endowed women the attention they truly deserve. Stunningly beautiful though they may be, I've come to become perhaps too particular in assessing their ample endowments and overlook other aspects of the sublime beauty which lies beneath (or, more aptly, behind) their beautiful big breasts.
Sometimes, though, I receive an e-mail from a woman who stuns me beyond belief, wherein her unique combination of sultry seductive beauty coupled with correspondingly well-proportioned huge breasts to die for just totally floors me. Such was the case early this month when I received the following photo from a girl in Texas called "Ctexsins Chelle"…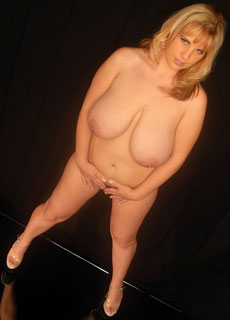 …I couldn't get in touch with her fast enough and, learning that Chelle had previously only released a handful of photos on the free Voyeur Web and a small modelling portfolio site used to promote her and her husband's artistic erotic photography business, immediately commenced the chain of events necessary for Chelle to get a personal website of her own.
Oddly enough, during the course of our mutual preparations, someone on the VoyeurWeb site grassed Chelle up as a "pro" – which, at the time, couldn't have been further from the truth – and her picture posts on VoyeurWeb were instantly disqualified and CtexsinsChelle was banned from the site. I also sadly learned that Chelle's stint on VW hadn't been a smooth one at all, and that more than one member had previously posted rude or disparaging comments regarding Chelle's nothing short of amazing body.
Indeed, it seemed that on the Voyeur Web site, if you had huge breasts and an all-natural womanly figure, the misgbegotten voyeurs who visited the site automatically classified you as a plumper or BBW (reminds me of a bunch immature teenage boys that I knew in high-school, really, too childish to appreciate the sensual allure of a real woman and any girl who had what I'd consider to be adequately large breasts was branded a "fatty" by these childishly churlish misanthropic miscreants).
On the contrary, CtexsinsChelle falls more toward the slim & stacked side of spectrum as far as MyBoobSite is concerned, and I feel that her 34FF / 34G breasts in perfect proportion to her slender body more than qualify her for genuine G-cup goddess status here!
I can somewhat understand the misguided supposition that Chelle might be a professional model, though, as her photos embody a degree of erotic artistry rarely, if ever, seen amongst amateurs. In fact, that's precisely what Chelle and her husband are striving to achieve with their clients, elevating others' wives and girlfriends to near supermodel status through exceptional erotic photography worthy of Glamour Shots and beyond!
But enough of my whittering on about this wonderful well-endowed woman with a gorgeous sexy smile, beautiful FF-cup breasts a voluptuous body built like a brick shithouse (that last "brick shithouse" bit is what they'd be wont to say in Texas, isn't it?). I'd best get on with illustrating my enthusiasm for you with a few more examples of why I'm so breathtakingly besotted by this beauty. And so, I am thrilled beyond measure to present for the first time ever here on MyBoobSite 34FF busty blonde Texan Ctexsins Chelle courtesy of her very own CtexsinsChelle Playmate Site: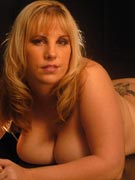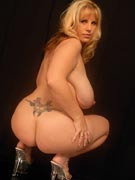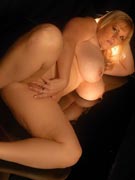 (note: actual photos on CtexsinsChelle's site are at least 1024×683 resolution)
CLICK HERE TO VISIT 34FF CTEXSINS CHELLE AT CTEXSINSCHELLE

Share and Enjoy
→ Return to MyBoobSite for More Big Tits ←