It's rare that I blog a particular model twice in a row, but this time I feel I have good reason. You see, our very own Ctexsins Chelle has taken advantage of one of those exceedingly rare once-in-a-lifetime opportunities to do a girl-girl photo & video shoot with the legendary Samantha 38G (although, considering that these two busty blonde babes have become fast friends and already have another shoot scheduled, thus rendering the once-in-a-lifetime bit was somewhat inaccurate)!
But that's not my sole motivation for today's blog, as I also wanted to take this opportunity to say "hello" back to Sam, who ever-so-kindly gave me a shout in the video before oh-so-cruelly sticking her tongue out in a most teasing manner because she gets to freely fondle Chelle's gorgeous G-cup breasts whilst I'm stuck 6,000 miles away in front of my computer… :~P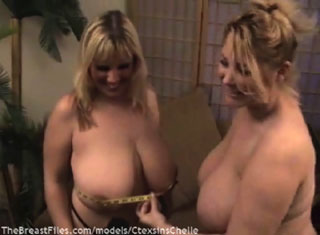 (video clip courtesy of CtexsinsChelle)
…despite my jealousy, I must thank Sam for recognising the fact that some of us guys do enjoy pouring over models' measurements and statistics (this obsession with numbers seeming to be a dominantly male trait). To that end, Sam's deftness with the tape measure reveals that Chelle's bust-line is 43 inches around with 2.5 inch areolas and 6 inches depth of cleavage (so I suppose I should be so terribly jealous since I've got a 43″ bust-line close to hand, albeit the bigger band-size making it a smaller F-cup). When Chelle measures the likewise G-cup Sam, it's an entirely different matter altogether with Sam having a whopping 46 inches of bouncing boob-flesh, 7 inches of cleavage and a huge areola diameter of 4 inches!
This all just goes to show that measurements and statistics don't always portray an accurate perspective on breast size. As Sam & Chelle so aptly demonstrate, even two pairs of G-cups can appear dramatically different in size. In order to be totally accurate, we'd need both the under-bust measure as well as the circumference immediately above the boobs and below the armpits. It's all too complicated, really, bringing me to question the "F-cup & Up" credo of MyBoobSite. I mean, I've seen some DD-cup tits amongst our models which seem to comprise significantly more breast-flesh than some genuine G-cups, so I guess it's all relative. Hmmm, I'm definitely going to need to explore this issue in greater depth…
But I'm getting ahead of myself as well as wildly off-topic here, as I'd come to talk about Chelle & Sam: Well, shortly after Chelle's Playmate Site opened, Sam contacted her with the offer to do a photo shoot together. When I was then phoned with the excited news of this amazing and career-launching opportunity, especially for a model like Chelle who was totally new to the big tits scene, all I could say was "GO FOR IT!" [Sorry, Sam, I know it was supposed to be a secret surprise for the content to just suddenly appear on my doorstep, but that's just not the kind of good news that you can keep to yourself! ;~)] Wait – better yet – rather than me going on and on about how the meeting between our two busty beauties ultimately transpired, I'll just let Chelle's hubby & photographer Mike tell the story in an update he provided me subsequent to the encounter…
We got a call early yesterday from Samantha38G telling us that she had a studio we could shoot with her in, when ever we decided to come up. After giving it about 30min of thought, Chelle and I called her back and set up a time on the same day!! After getting ready packing up all of Chelle's wardrobe, shoes and tech gear we made the long drive to meet up with Sam and her photographer D. Wise.

We started shooting around 6:30 that evening taking about 300 or so photos and about 30 min of video. It was a great time and we had quite a lot of fun. Chelle got some good advice from Sam and D. about what she should do next along with the great opportunity I had to actually shoot the wonderful Sam through my own lens. I have attached a few of the photos from that shoot and a small clip from the video. While I would like to put this shoot right up in Chelle's Playmate gallery I am going to hold them for now as we have all ready started planning another shoot with Sam here at our Ctexsins studio in the next couple of weeks. This shoot we did with her last night was a girlfriend style shoot very simple and clean. Sam will be using some of the content on her site Samantha38g.com of which she intends on helping promote Chelle's Playmate page at the Breastfiles.

After talking with D. and Sam, Chelle also found a better comfort level with steeping up her content. So for all her big fans out there looking for something a bit more spicy from Chelle you can rest assured that it will be cumming to a site near you in the very near future.

While we are starting to do some real heavy promotion of CtexsinsChelle, she has told me on several occasion that no matter how big she gets she will still be the same Chelle you all have today!! She wants to insure that she will always stay in close contact with her fans on the forums and her own BBS. She has no intention on traveling all over the country doing shoot after shoot just for the money.

Just a few projects in the future for your thoughts, Chelle's cellophane dress, Jeans and T, and another trip back up to do a solo shoot in the Studio for some dungeon dominatrix shots, sexy secretary, and about 7 other studio rooms which should give us enough content to covers us for about 17 months on top of what we already have. Expect to see much more video going up in her gallery also as we plan to add 3 videos a month and increase our updates from two a month on the photos to three!!

Attached are the photos from Chelle N Samantha's girlfriends shoot, will send photos in second email!!
…the really good news, however (well, apart from the fact that Chelle has a cellophane dress which I am most eager to see), is that rather than just being able to show your the handful of "teasers" I'd received, our G-cup glamour goddess Chelle has since posted the photos & videos from this monumental mammary meet to her website! So, rather than me continuing to whitter on inanely as I do, I'll just take a breath for a moment whilst you enjoy these photos of 34G Ctexsins Chelle & Samantha 38G together for the first time at the former's CtexsinsChelle Playmate Site…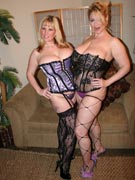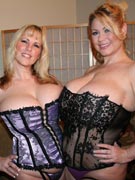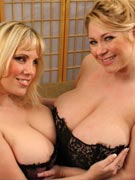 (note: actual photos on CtexsinsChelle's site are at least 1024×683 resolution)
…right, then – back to my whittering: Apart from deliberately poking fun at my sad inability to enjoy a similar close encounter with Chelle's beautiful breasts, the videos which accompany this photo series simply serve to reinforce my view that Sam, in coming face-to-face with big boobs other than her own, suddenly transforms into "Samantha the Sapphic Succubus" (tee hee – sounds like a character from a kiddies' book, dunnit?), corrupting the busty women of the world! :~o
As if it wasn't enough to erotically educate a formerly-innocent Chelle on the profound pleasures of "motor-boating" (i.e. sticking your face between the cleavage of a pair of suitably voluptuous huge breasts and wagging it from side to side whilst going "wulla wulla wulla wulla" within (or, in our creative Chelle's case, taking artistic license with the practice and blowing raspberries instead)), Sam goes so far as to get Chelle down on her hands & knees before mounting her from behind and humping her doggy-style ("I wish I had a dick" indeed!) whilst leaning over to grab heavy handfuls of the glorious G-cup boobs bouncing beneath! Are there no limits to this wanton woman's lustful lechery?! Can we just allow Sam to go about freely corrupting all of our new and generously-endowed girls through the sensually undeniable allure of her own curvaceous charms??
Yes. Yes we can. […is the short answer.] You see, jealous though I may be, I can but express my admiration and appreciation to Sam for the great service she's providing for us big breast lovers in encouraging new models to open up to erotic possibilities left previously unexplored. And so, Sam, a sincere thank you from myself and everyone at MyBoobSite for helping to propel Chelle to the next level! Thus, here are but a few more preview clips of these two exceptionally well-endowed wonders of of nature – 34G Ctexsins Chelle & Samantha 38G – frolicking away in the most recent videos at Chelle's own CtexsinsChelle Playmate Site: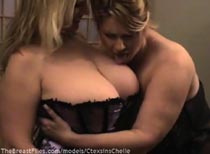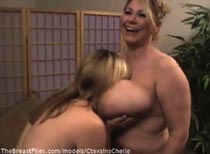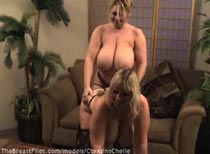 (note: actual full-length videos on the site are 640×480 resolution)
CLICK HERE TO VISIT 34G CTEXSINS CHELLE & SAMANTHA 38G AT CTEXSINSCHELLE FROM THEBREASTFILES PLAYMATE SITES

Share and Enjoy
→ Return to MyBoobSite for More Big Tits ←