Sincerest apologies to InBedWithFaith (32G Faith Nelson having started the whole "in bed with" trend), but I've just seen the most amazing videos on the DorsFeline site which struck me as the ultimate massive mammary molesting masturbation fantasy fodder for wanking over this well-endowed wonder of nature that the blog title just wrote itself. And, speaking of sincerity, I wish to extend my gratitude to Dors Feline herself for popping in to MyBoobSite to post a comment on my last blog of her. I feel truly honoured that such a rare and stunning creature of incomparable natural beauty should deign to grace my humble boob blog with her busty voluptuous presence…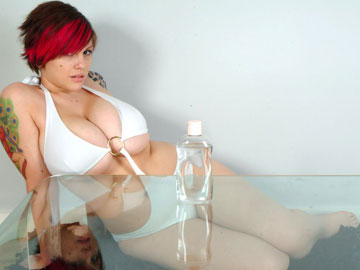 Dors Feline wrote:

Thank you all so much for the comments im stunned! Ive taken no offence Bob, that post was written when i was still very angry about the ex and as for the gross emails their not your average "hey baby id love to fuck you" etc.

But never mind! im thrilled you all love the photos and i think i have inspiration for my next blog that i was pondering on today!

A massive thanks to vix's who sent me the links to come see what you guys think! im so overwhelmed! Love you all!

BIg kisses and hugs

Dors

xxxx
…well, we love you too, Dors, and thanks again for dropping by MyBoobSite to share your thoughts. I must say that you're making a most impressive start in the big boobs biz, as you're currently the #1 search term for my blog!
Right, then. Before we move on to the amazing videos I was talking about, let's first start out slow with some fabulous photos of lovely 34K Dors Feline massaging her massive K-cup breasts in baby oil at DorsFeline.com…
34K Dors Feline massaging her big boobs in baby oil in K-cup huge tits photos from DorsFeline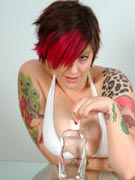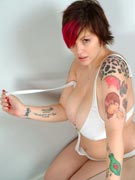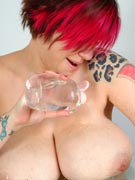 …the incredibly horny videos to which I was referring earlier find ever the sexy goth slut Dors Feline naked in bed seducing us with her busty voluptuous nude body, her massive breasts hanging like a picture of pulchritudinous perfection above her pleasingly plump belly in a cascade of colossal cleavage – a woman of substance reeking of sex as she reclines back whilst peeling her panties off her shaved pubic mound to reveal the perfect pierced pussy concealed therein. Laying on her back, her huge boobs pancaking as best they can considering the sheer volume of breast flesh adorning her ample chest with nipples pointing outward, she begins stroking herself down the nape of her neck, over the curvaceous contours of her mountainous mammaries and across her plump tummy until she at last reaches those sexy thighs for a sensual feel. Rearing up to reach around for a fondle of that beautiful ass of hers, finger drag across hips as they journey ever closer toward the sublimely seductive slit of her perfect pussy of which we catch a brief genital glimpse as she settles back down into the bed).
You wistfully dream about touching this gorgeous goddess in her garden of fleshly delights as she fingers herself in prick tease fashion, compelling you to fill with sexual desire until you're fit to burst. Oh, to cop a feel of those huge tits or probe her pussy for but one glorious moment of erotic ecstasy – to stroke her fleshy thighs and spoon her ample ass with one hand resting on that beautiful belly – pulling her in close to smell her hair as you melt wallowing the voluptuous nude glory of her nakedness. But, alas, such intimacy eludes you as your goddess of sins of the flesh falls asleep before your sex hungry eyes – her ravishing Rubenesque nude body exposed in voyeuristic intention for all the world to see.
The room now dark, you struggle to see the well-endowed wonder splayed out naked before you. As your night vision adjusts to the low light conditions, you nervously reach one hesitant hand to touch the monochrome mammary mountains of big breast flesh slumbering peacefully in their full-frontal nudity. Courage takes hold as your daring digits massage across the silky expanse of her large areola beckoning you to touch her nipple with thumb and forefinger. Becoming ever braver – bolstered by the hopelessly erotic allure of fondling her massive boobs – you traverse her chest to the other breast and pinch her nipple gently. The sexy smile crossing her adorable face makes you wonder what this majestic voluptuous vixen might be dreaming as you cautiously molest her in bed, careful not to awaken your super busty sleeping beauty submissive to your tender touch.
Your big breast worship having abated in due time from all of the sleep fondling you've enjoyed, you decide that your quest should proceed to the holy grail of the pretty pussy that lies between her lovely legs. Stopping to massage the magnificent mound of her voluptuous tummy, your index finger traces over her belly button as a recessed reminder of your ultimate goal of holding her gorgeous genitals within your grasp. Sliding down her shaved vulva as finally your fingers feel her pussy piercing beneath their probing tips as an indication you've reached her clitoris, you glide frictionless over clit and labia to press your palm against her pussy for a gentle grope of the fecund female genitalia extending an invitation into her vagina.
So what do you do next? The erotic options are truly endless in this perfect plump playground of big tits & pussy combined, a bountiful banquet of busty beauty stretched out before hungered hands – not to mention the other anatomical features eager to dive in for a taste! You'll just have to use your imagination to finish the sexy story, finger fucking her in her sleep (as the lucky bloke in this video decided to do) being but one prurient and perverse possibility presented to big breast lovers in these most intimate videos of the amazing big boobs pussy heaven that is the most stunningly beautiful K-cup seductress 34K Dors Feline from DorsFeline.com:
34K Dors Feline videos from DorsFeline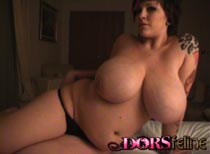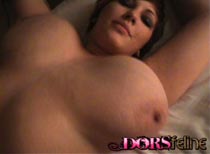 CLICK HERE TO VISIT 34K DORS FELINE AT DORSFELINE.COM

Share and Enjoy
→ Return to MyBoobSite for More Big Tits ←